On the Job Site Spring 2019
July 10, 2019
Take a virtual tour of three of CDG's projects currently under construction and nearing completion. Included is a landscape project designed to help an existing house and its new addition inhabit the land beneath and around it; a 60,000 sq. ft. manufacturing and warehouse project in Morrisville, and the recently completed Green River Reservoir State Park Firewood and Storage Shed.
A benefit of working on a diverse group of projects is the opportunity to dig-in and get our hands dirty on such different types of work, polishing our skill sets and expanding our knowledge of design solutions.
Whether we are developing a complex 3D model of a residential landscape design or collaborating with the leadership team of one of northern Vermont's largest employers to build-out their facility's expansion plan, every project is an opportunity to collaborate with and learn from our clients and contractors.
Hillside Landscape Design
Above, Jon Severinghaus and Ryan Beaulieu developed a detailed 3D model to study proposed hardscaping, landscaping, plantings, and pools in collaboration with our client. The model demonstrates the planted landscape, transformed from raw and ledgy, to verdant, and welcoming. Stone steps follow a path descending from the top left by the screened porch to right near the home's existing entry.
As 'travelers' follow the wandering route, the planted landscape beckons them to engage their curiosity and explore the man-made pools and gentle waterfalls. A variety of lush plantings are proposed to give new life to the home's steep approach from the driveway to gently ground it in the surrounding landscape.
Below, work is underway in collaboration with Bruce Paine and his team at P&P landscaping to construct the hardscape's patios, paths, steps, and pools, in addition to the scheme's underlying boulder structure. Reap Construction of Richmond, Vermont is the project's general contractor.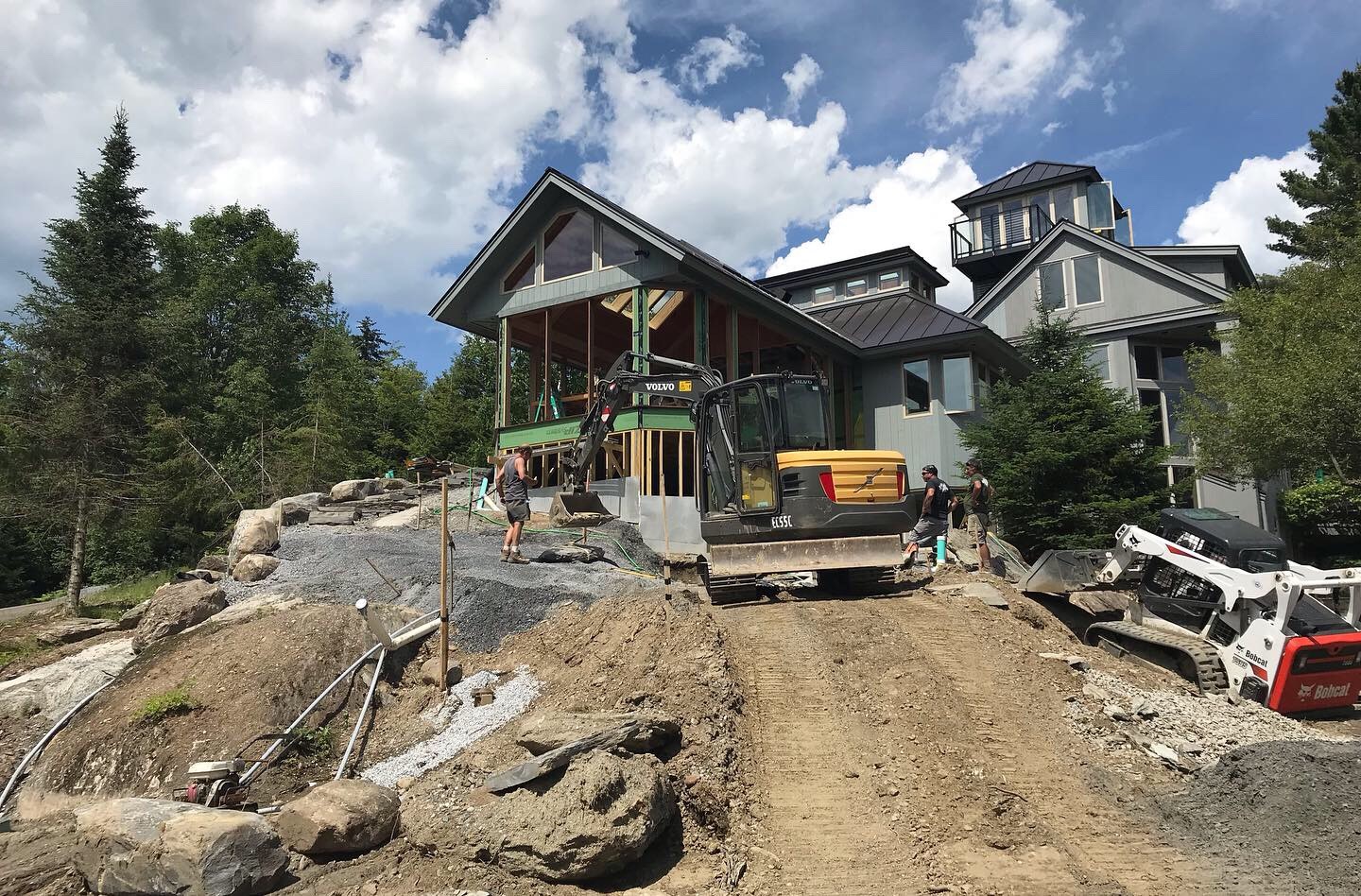 MSI - Manufacturing Solutions, Inc. Expansion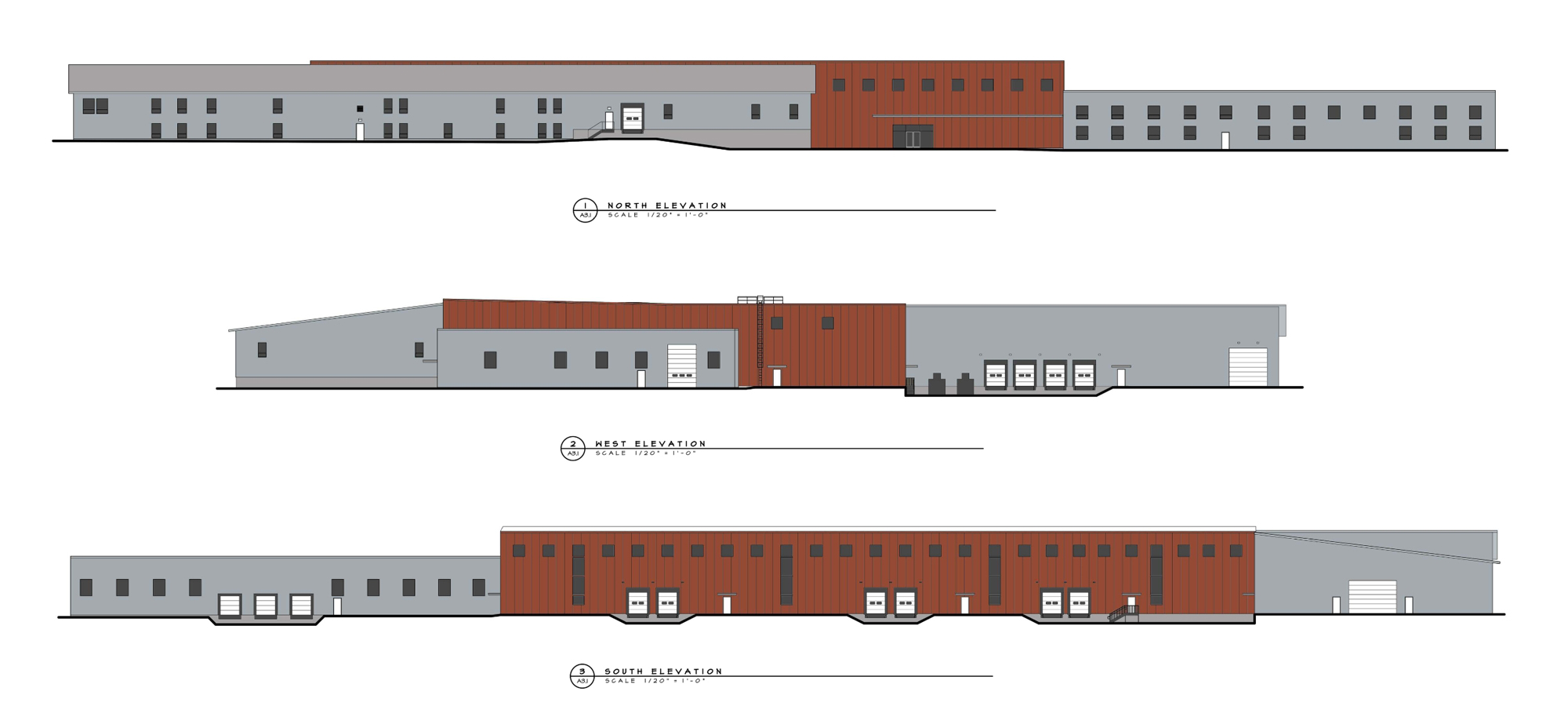 MSI, a provider of customized contract manufacturing solutions and one of northern Vermont's largest employers, is underway with a significant expansion project at their Morrisville, Vermont manufacturing and warehousing facility.
Color-rendered building elevations at right show the expansion in red >
With the completion of the 60,000 square foot addition, MSI will increase its contract manufacturing capacity, and be able to more efficiently scale its production and workforce to keep pace with demand.
MSI, led by Garret Hirchak, CEO & Founder, and Beth Salvas, President, believes strongly in supporting its community, and has partnered with neighboring Morrisville general contractor Donald P. Blake, Jr., Inc. to manage the construction project; SD Ireland Concrete's Morrisville aggregate facility; and nearby Morrisville metal fabrication company LWI Metalworks for structural steel fabrication. Cushman Design Group is proud to be a part of the project team supporting MSI's growth.
Below, MSI's facility is shown from above looking towards Mount Mansfield and Sterling Mountain. The new expansion will infill the space between the existing buildings at the bottom of the image and the right side of the image. Drone photo credit: Dana Ambrose, CDG Marketing Associate.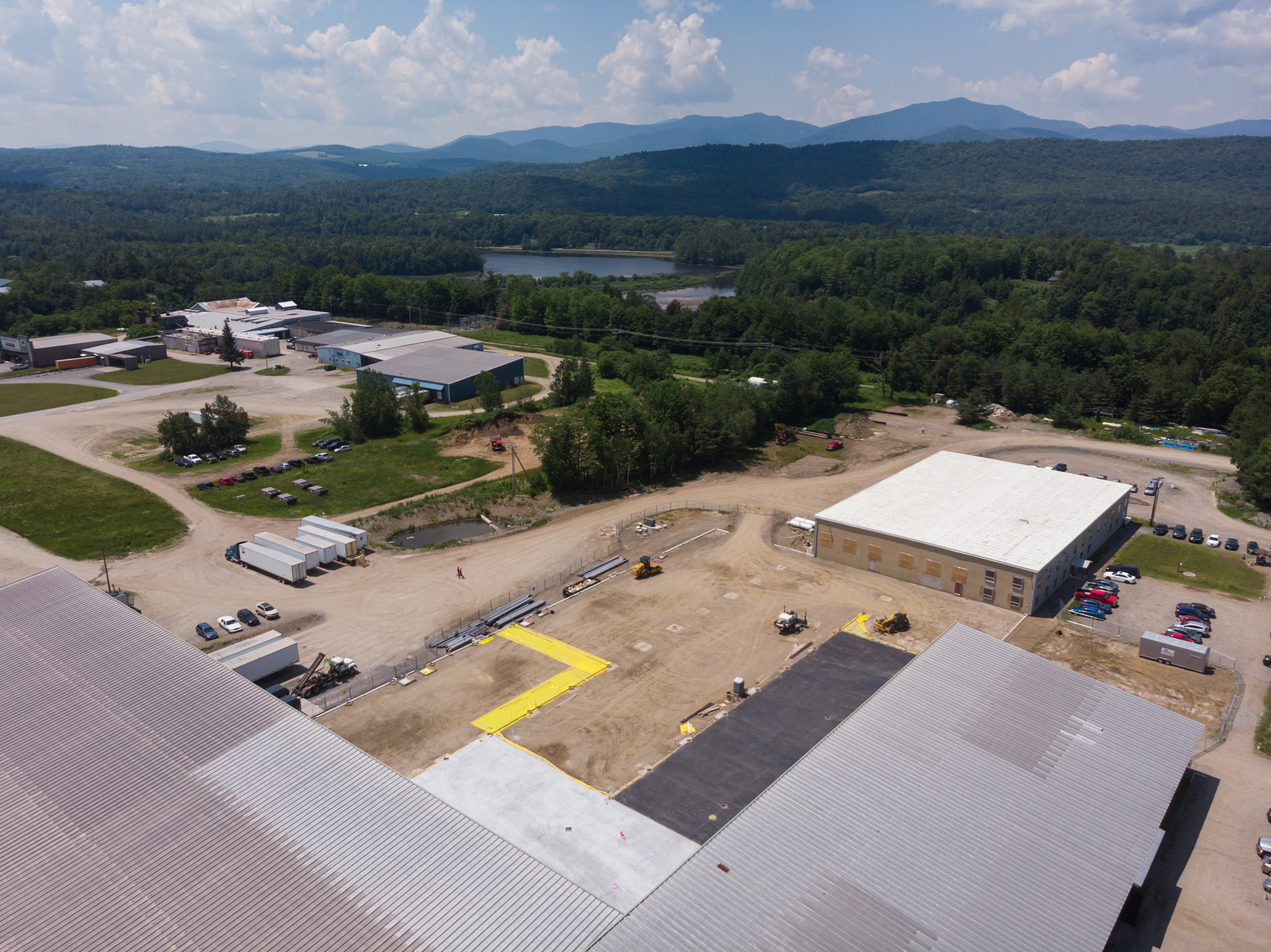 Green River Reservoir State Park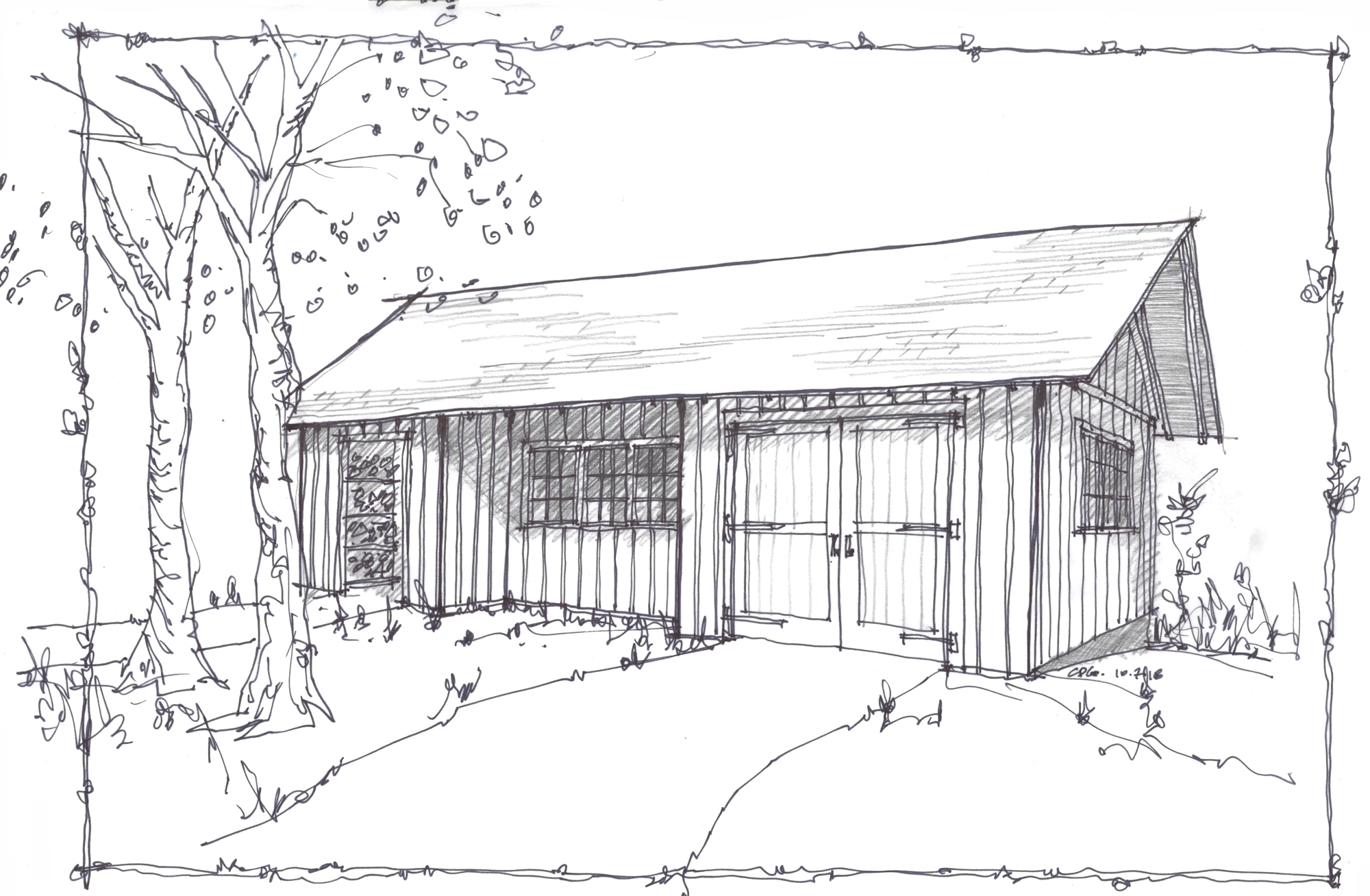 The Firewood and Storage Shed at Green River Reservoir State Park in North Hyde Park, Vermont has recently been completed. CDG collaborated with park staff and general contractor Tell Gregory who constructed the building.
The building has a workbench, ample storage space for tools, firewood, wood chips, and winter storage for equipment. Congratulations Green River Reservoir State Park staff and visitors!
Sketch by Milford Cushman >
Below, park staff stand in front of the newly completed building which is now in use for the season. Photo: Ron Kelley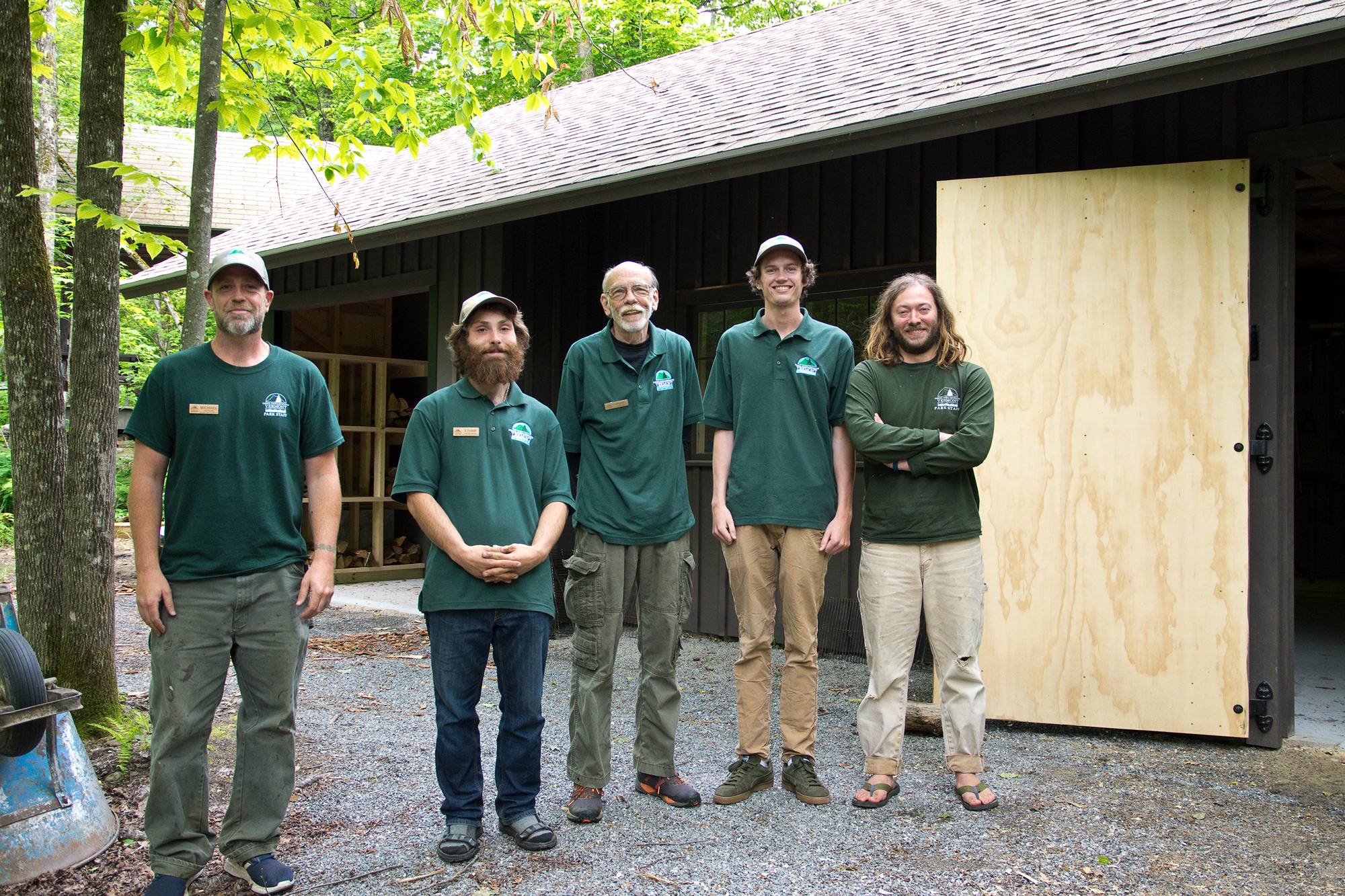 Related Posts