March 12, 2019
Take a virtual tour of this selection of CDG's projects currently under construction and nearing completion. The diversity of client requests for design work and the stylistic interpretation of those requests, tells the underlying story of CDG's strength as a design firm with a client-centric process focused on inclusive collaboration our clients and contractors.
Situated on the wooded site's topographic high point, and overlooking a beautiful pond with mountain views beyond, this compact "Carriage House" is designed for just big enough living. An interpretation of forms traditionally found in Vermont, the home utilizes two over two simulated divided lite casement and awning windows, often in generously proportioned pairings, in addition to timber elements, to create a stylistically distinct, yet appropriately restrained take on contemporary mountain living in the Green Mountain State.
Our team worked with two young, vibrant, and highly curious clients to shape the concept and prepare construction drawings. The project is under construction with Tell Gregory, of Gregory Construction.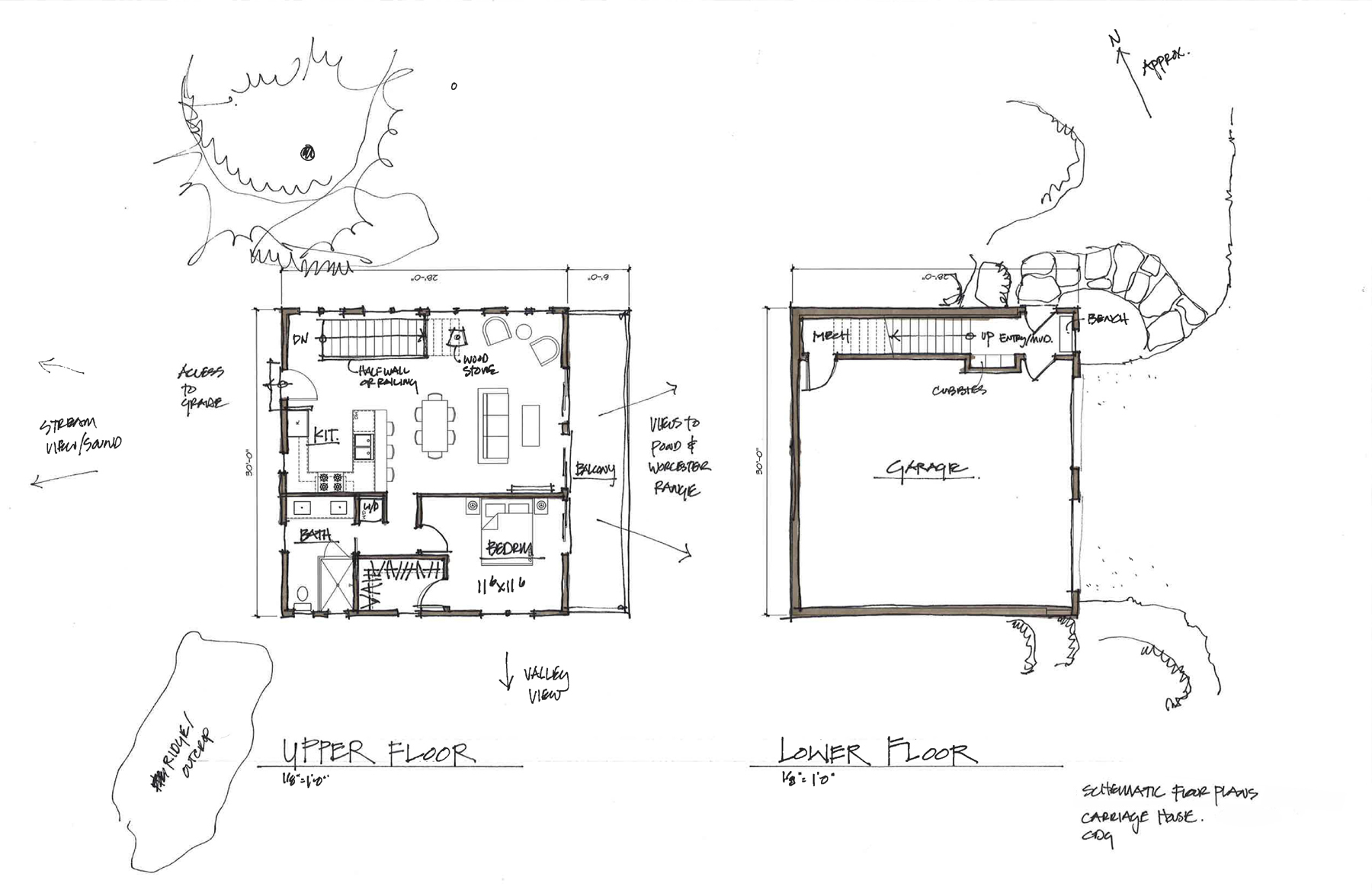 Schematic floor plans of the "Carriage House"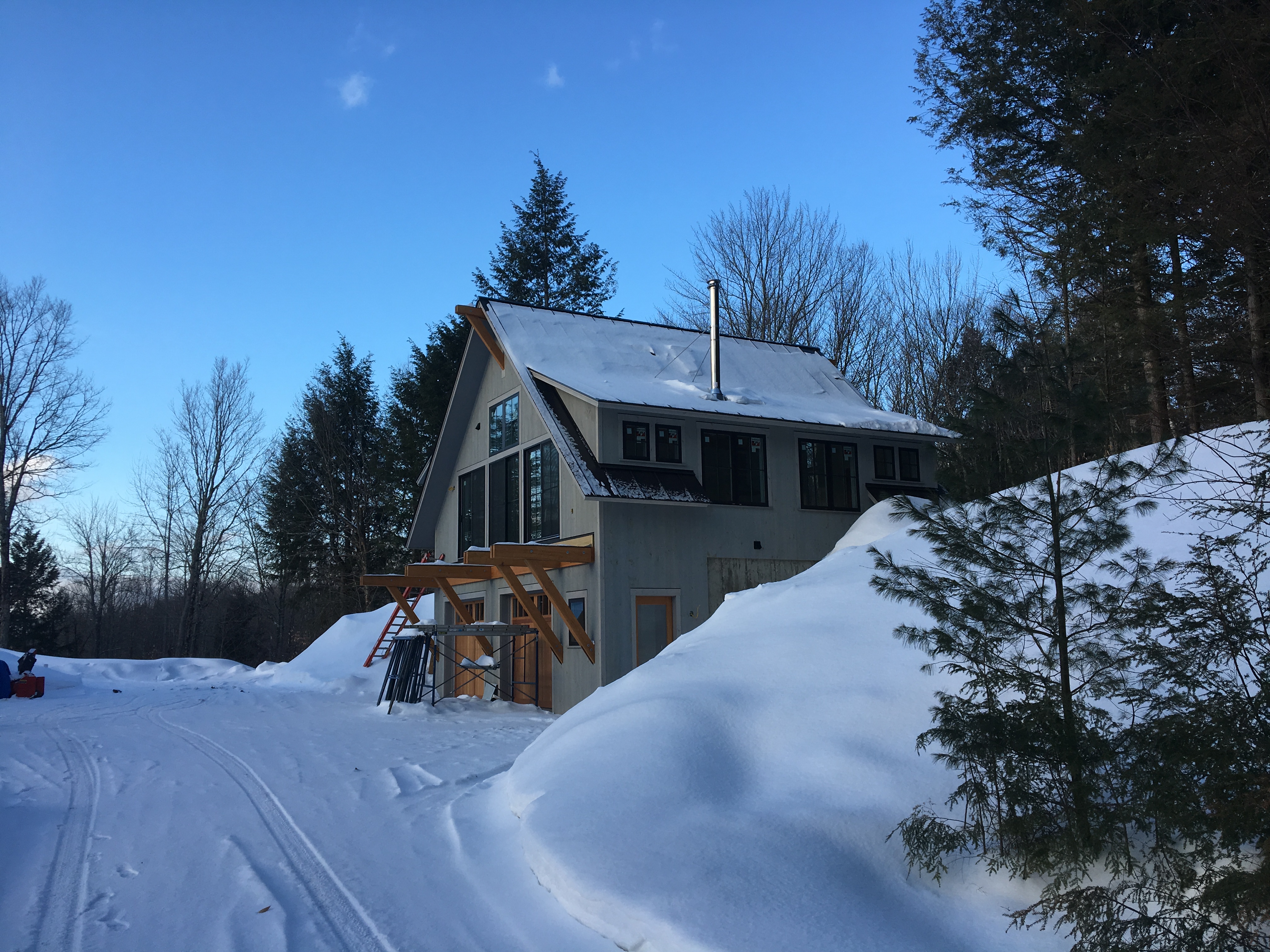 View of the building emerging from the bedrock embankment upon which it rests, as seen from the approaching driveway.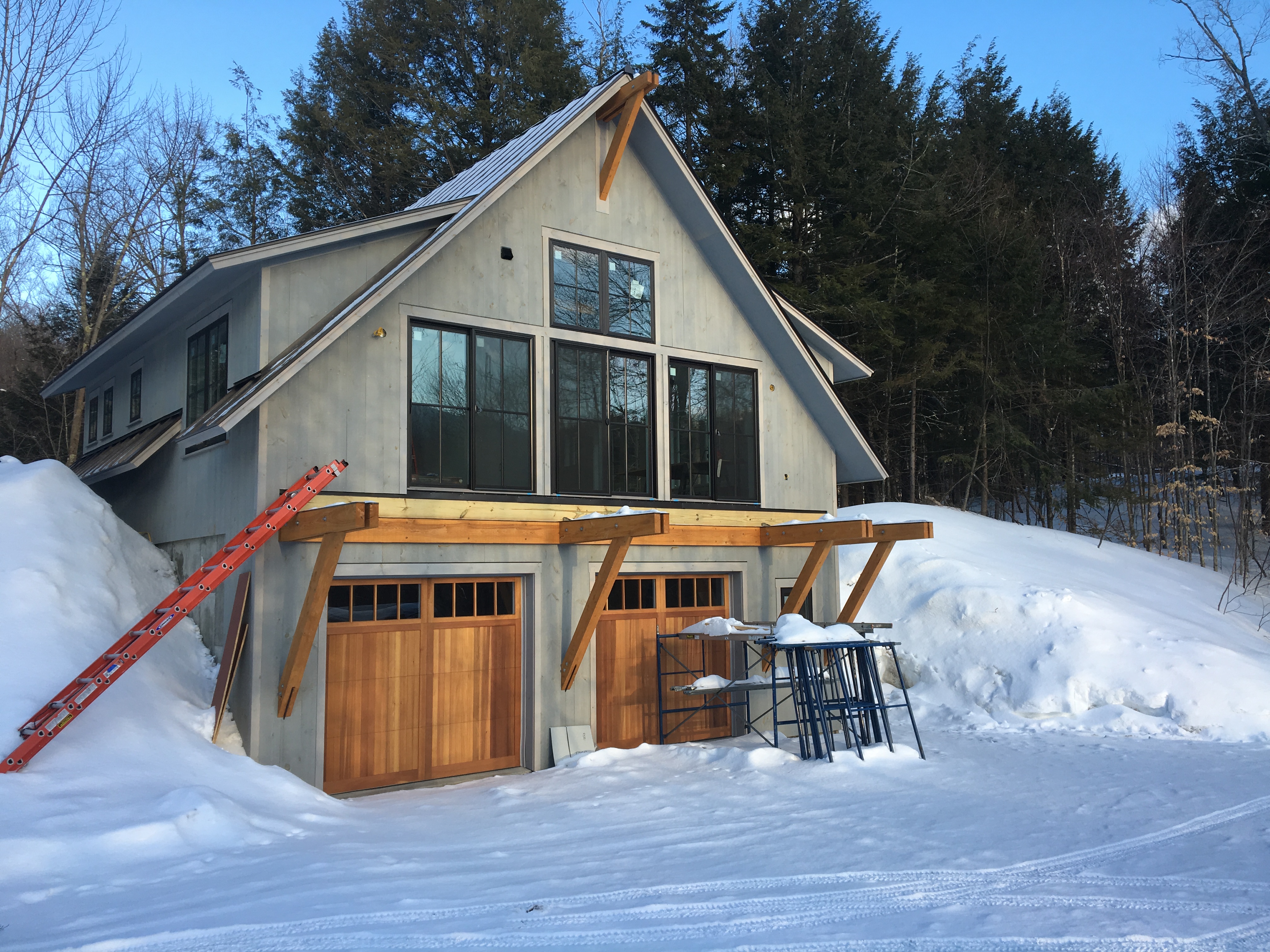 The gabled facade of the Carriage House. The large timber brackets project from the building where they are anchored with steel knife plates, and will support a deck above with access from the living room and bedroom.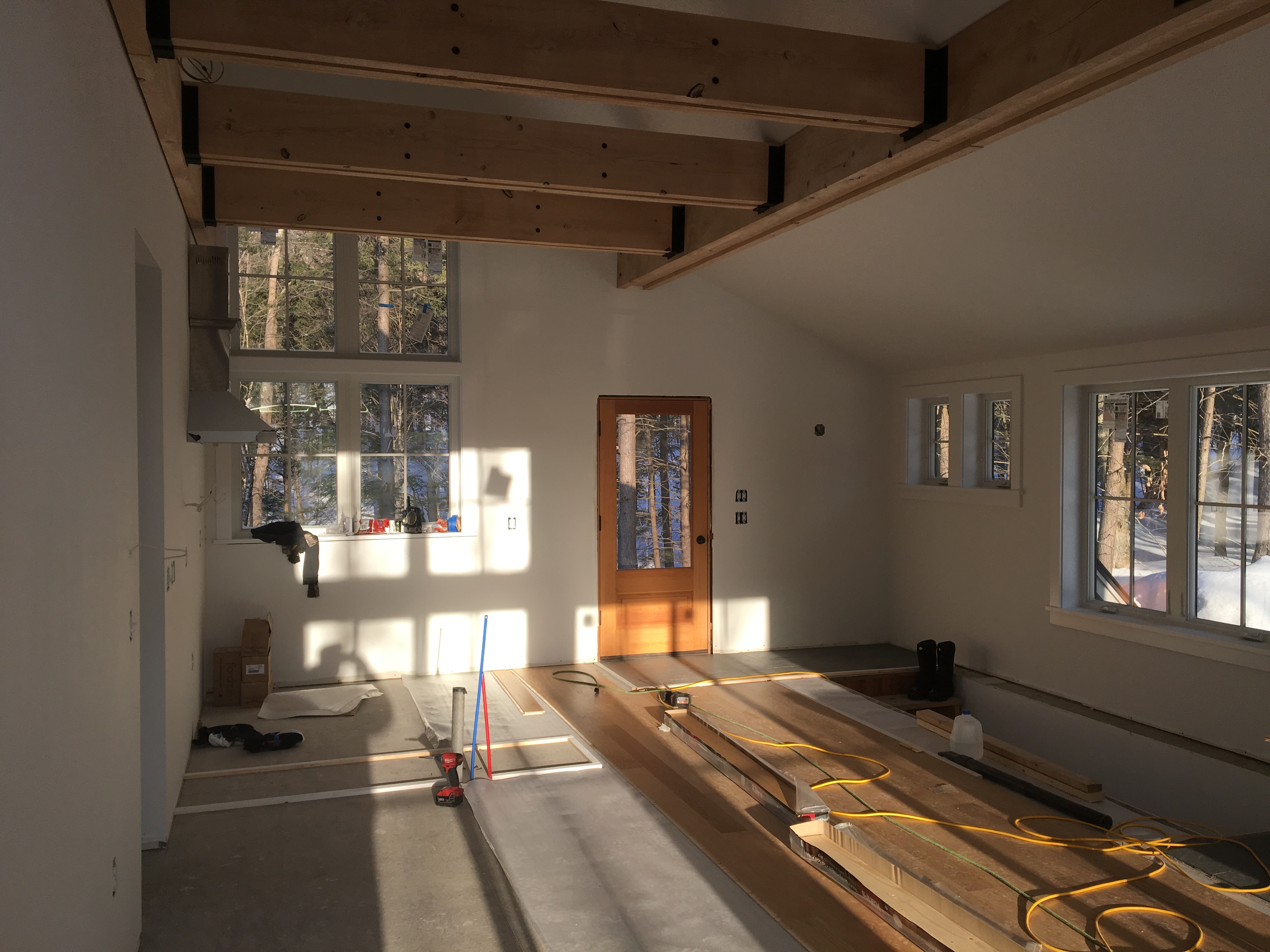 Interior work is underway, with finishes taking shape as your read this. We look forward to sharing more of this exciting "Just Big Enough" project soon.
In collaboration with our creative and vibrant clients, CDG designed a light-filled renovation focused primarily on integrating a new kitchen and screened-porch within the home's site-articulated architectural language. The kitchen is imagined as a bridge between interior living spaces and the new screened porch, both of which become gathering places for family and friends. Drawing upon the form of a barn with a monitor over the center aisle, the monitor above the generously sized kitchen island holds a skylight and is surrounded by windows. Bob and Joy Reap, of Reap Construction have collaborated with our office on this exciting project.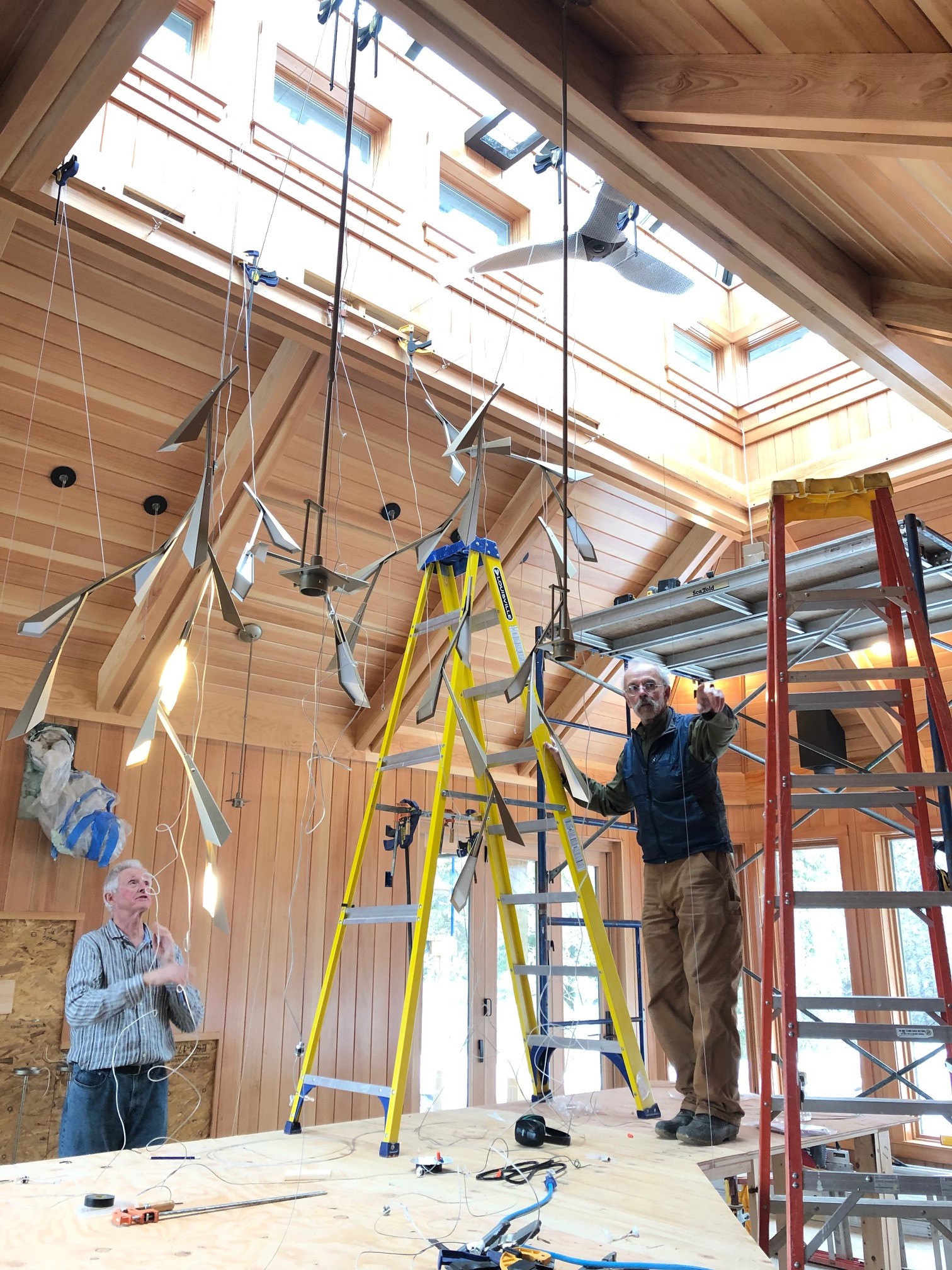 Above, CDG Founder/President Milford Cushman (left) is in the midst of collaboration and problem solving with Gary Cole, of Cole Electric and CDG Project Designer Ryan Beaulieu (not pictured). The light fixtures being hung are the "Quill" by Hubbardton Forge. The congregated composition of the eleven slender and angular fixtures creates a voluminous form, selected by our client to create a visual focal point above the kitchen island.
The eleven 800 lumen fixtures each have five heads with high CRI LED lamps that serve as both ambient and task lighting. Using a combination of 3D modeling, and good old fashioned layout in the field, the fixtures will have minimal visible fastening and support, appearing to float beneath the monitor's ascendant space as if a constellation of lights.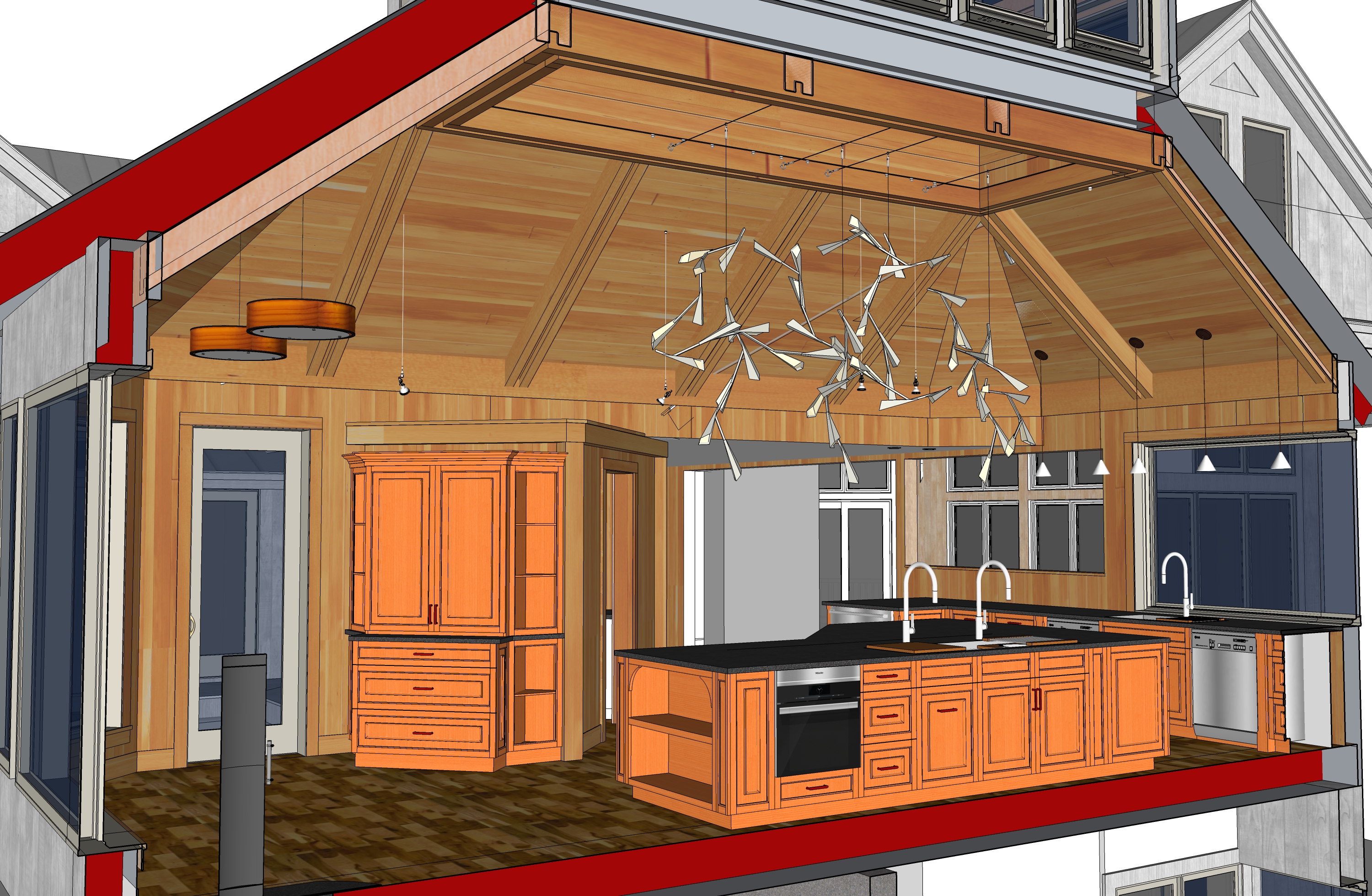 Our design team created the above 3D model to use in collaboration with our installation team to study fixture layout and attachment point schemes prior to hanging them.
A truly enjoyable aspect of our work is the transformative power of thoughtful design resulting in intentional changes to our clients' spaces, then seeing our clients respond to and embody their new space. Simple changes to a floor plan and the addition of windows can have an enormous impact on the quality and identity of a space. These changes then establish a new identity born from new patterns of use, that are inherently linked to the spatial relationships both created and let go of. Designing intentional change, great or small in magnitude, enables us as design professionals to have an extraordinary impact even with relatively limited scope design services.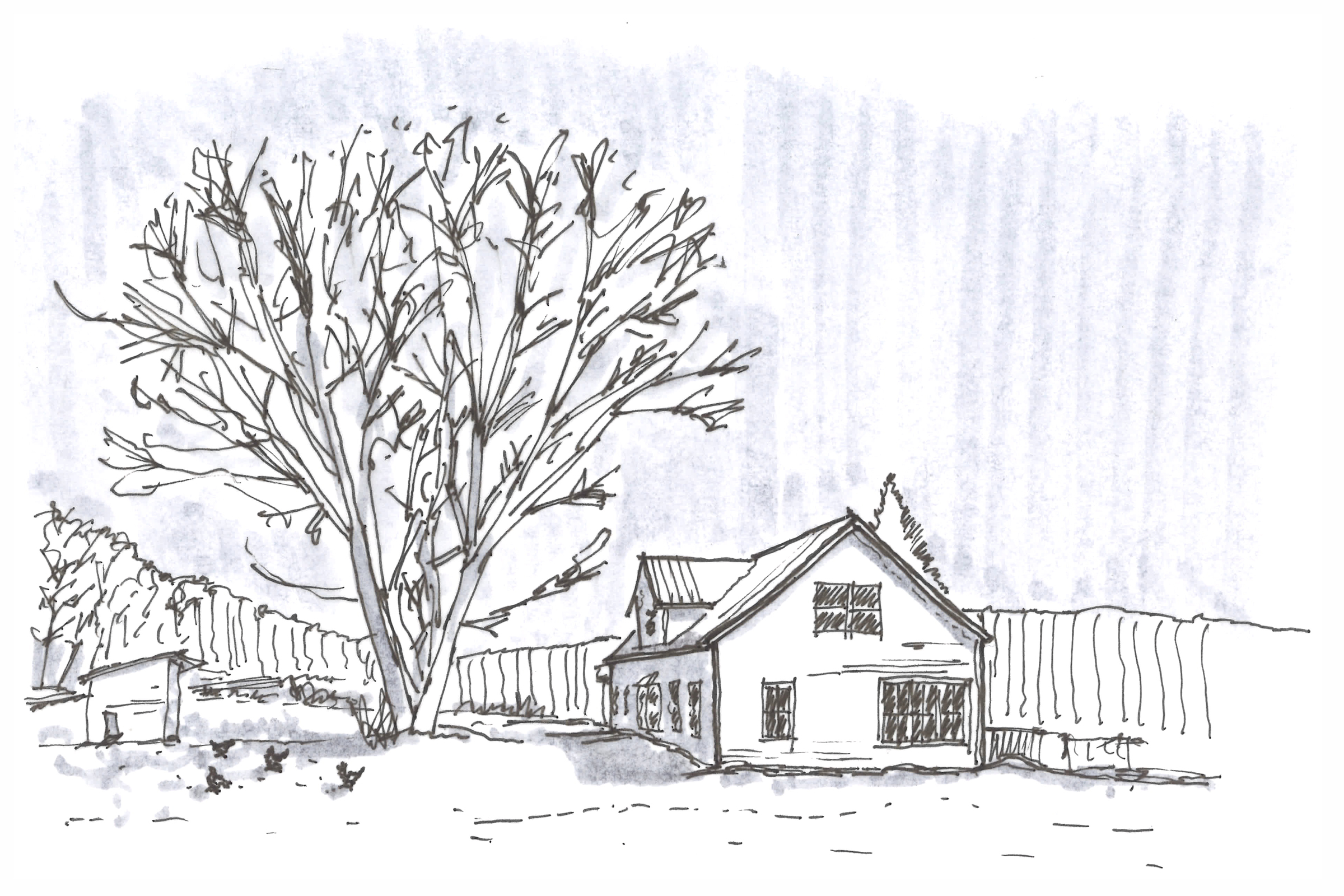 A simple exterior sketch of our client's home this winter. The lower level of the gable end holds the new living room and generous new windows.
The owners of this home, parents of two young children, requested a new space that had large windows to fill the room with light and take advantage of lovely meadow views to the south, a sun room so to speak. During our team's first meeting we proposed an alternate solution that would reorganize half of the home's main level layout to create a large living room with multiple seating groups, and new larger windows on three sides to fill the room with light and the beautiful surrounding landscape.
On the south side of the new living room there is a more formal adult sitting area held by two groupings of large windows, and on the north side a more informal area to watch TV and for the kids rambunctiously enjoy! The enclosed stairs dividing the dining room and the study beyond were opened (below). The study, originally a less used room, was relocated to the north (road facing) side of the home, preserving the beautiful pastoral views to the south for the new living room. CDG worked in collaboration with our clients, and Steven Martin of SE Martin Construction on this project.
The owners have moved back in to their home, with a small punch list of items remaining.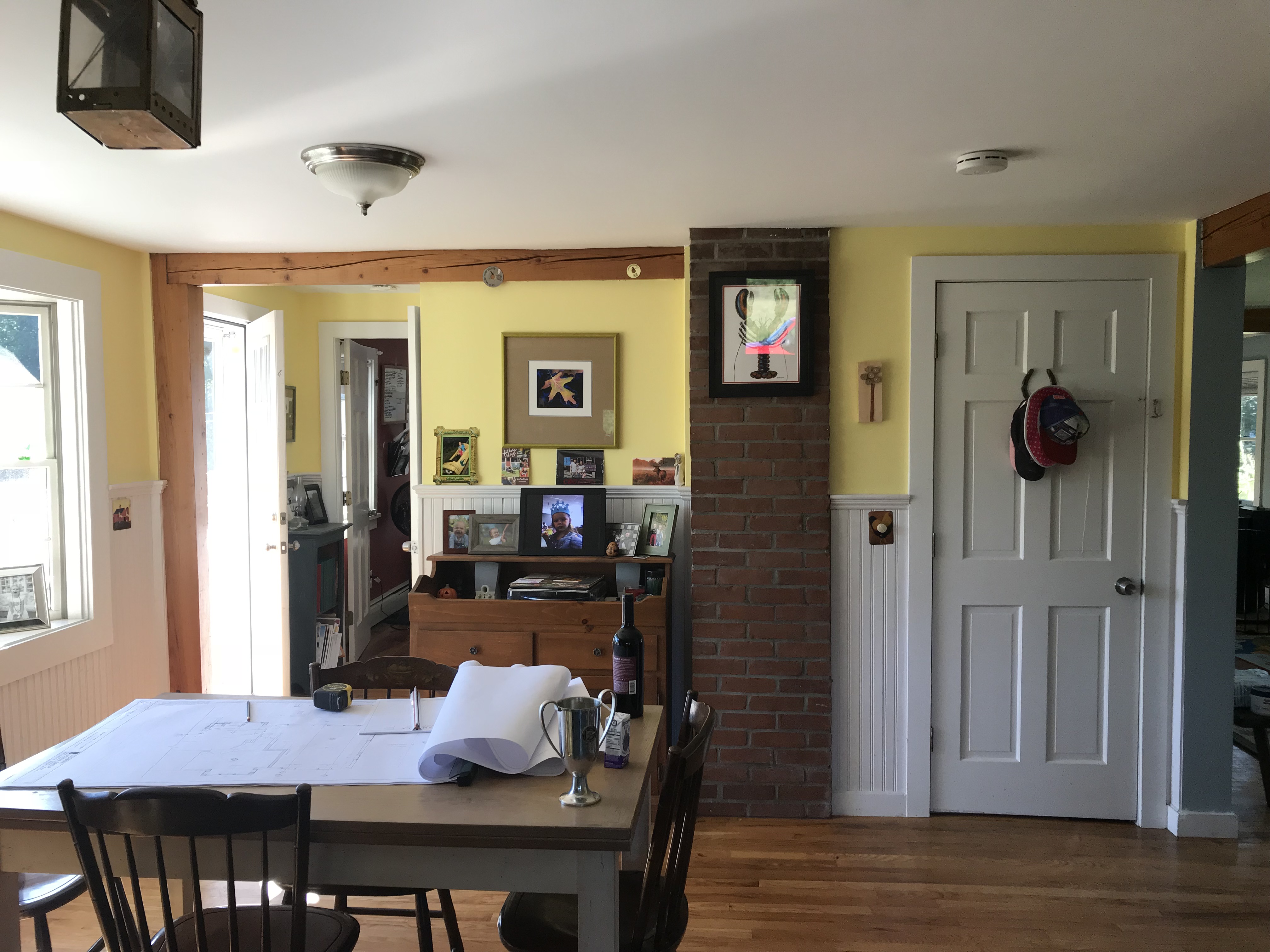 Before photo from a similar position as the photo above, towards the west
Related Posts