On The Boards and Under Construction
November 08, 2018
Take an inside look at several of our studio's current projects under construction and in the design process. Our team uses a combination of digital tools and hand sketching to explore design options with our clients and to document our work for construction. In the field, we are privileged to routinely collaborate with many of the area's talented contractors and craftspeople.
This handsome hillside home that we first shared with you in March of this year is nearing completion with Steel Construction of Stowe, VT. The design scheme orients the home's entry sequence and living spaces to establish a strong visual connection to the site's expansive view of Mount Mansfield, Sterling Mountain, Madonna Peak, and the northern Green Mountains beyond.
It's truly a pleasure to collaborate with craftspeople at work and to watch our client's vision come to life as construction nears completion. Bruce Paine of P&P Landscaping has done masterful work elegantly connecting the uphill side of the house with the lower walkout level using stonework consisting of boulders, large slab steps, and bluestone slabs. On the interior, Steel Construction's crew and sub-contractors are hard at work installing finish woodwork, cabinetry, tile, and more.
We would like to thank our clients for their collaboration with us and ongoing thoughtful engagement. Look for photographs of the completed project next year.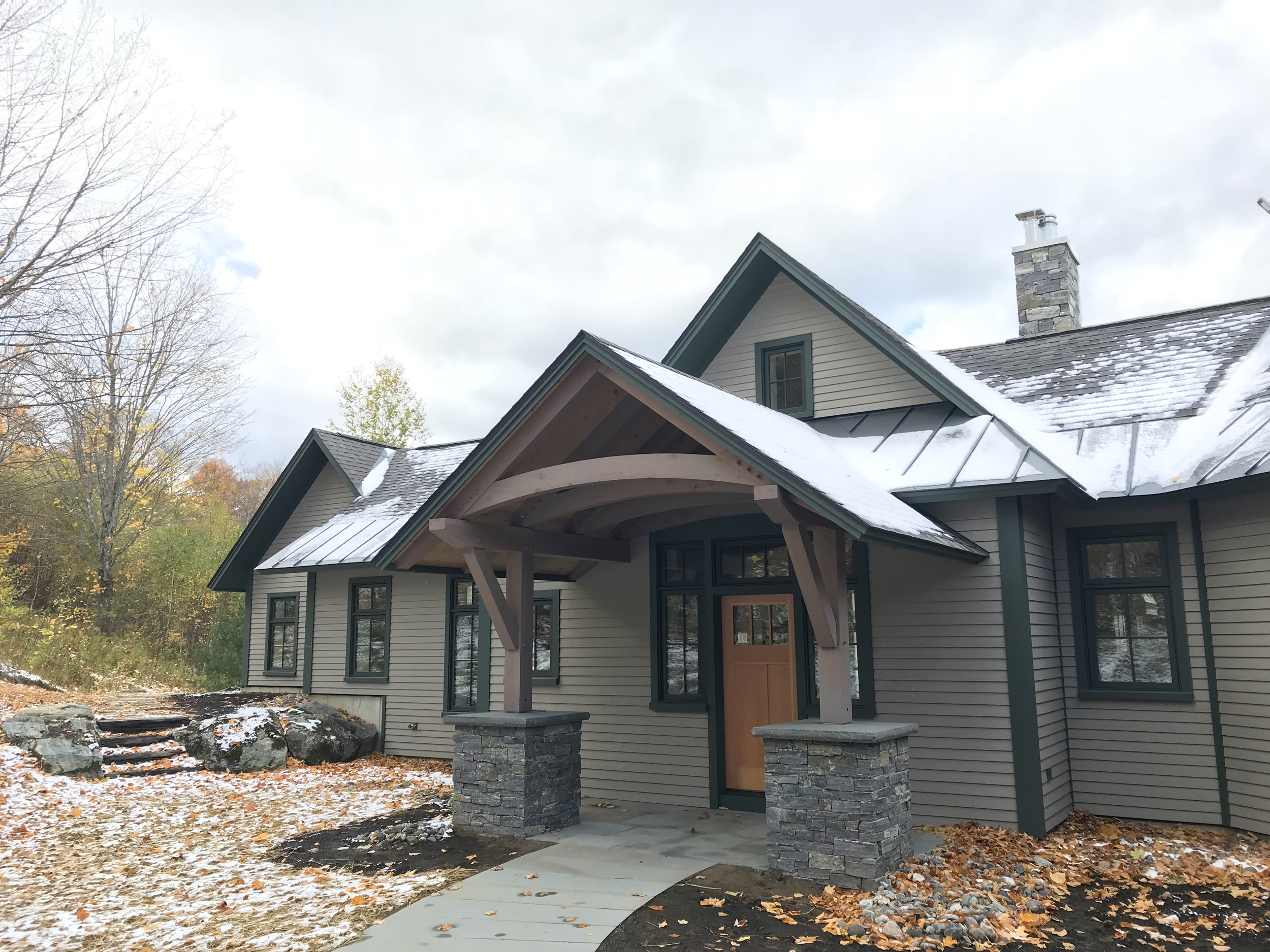 Abundant windows grace the home's mountain facing facade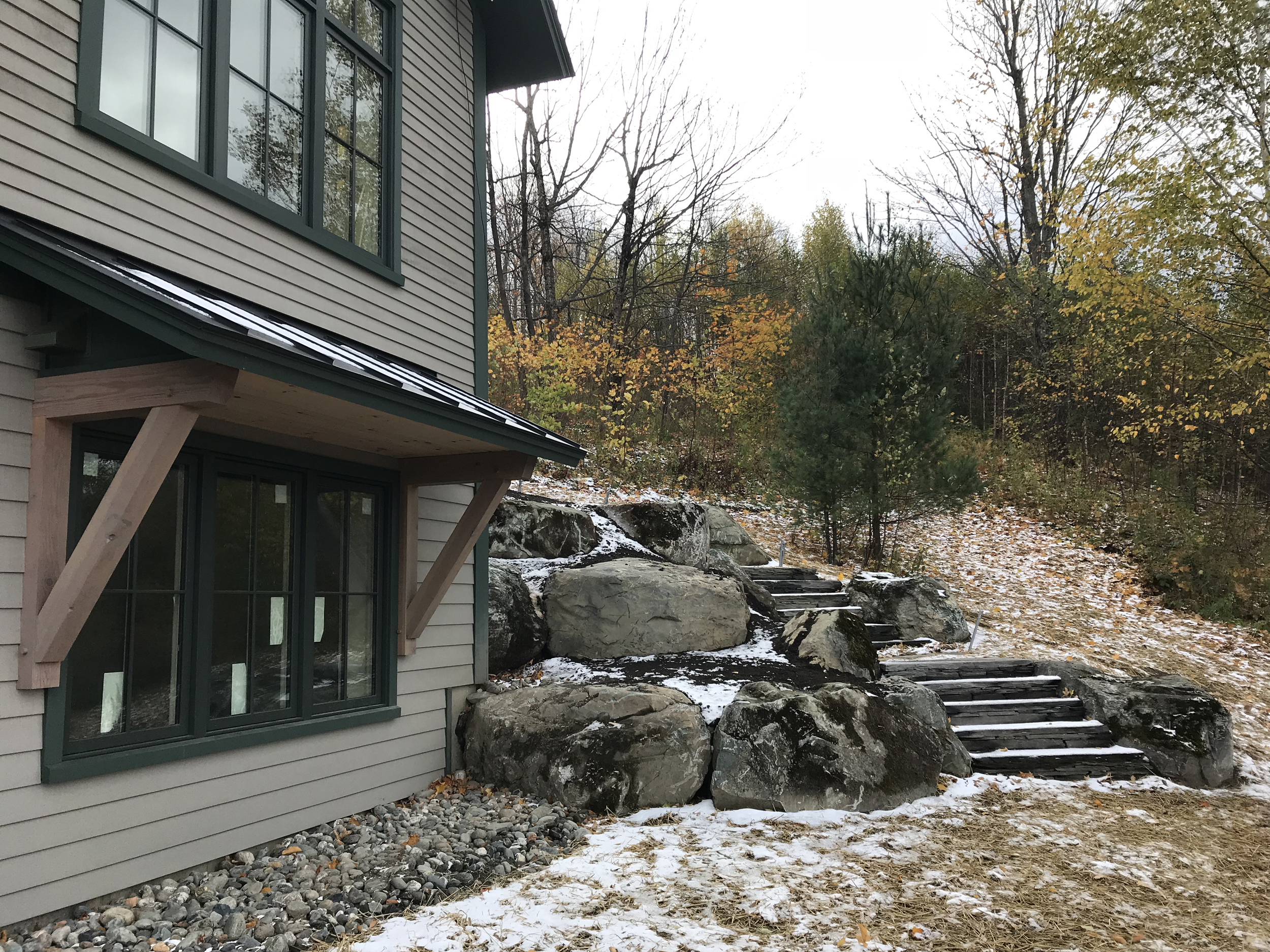 Elegant boulder work and stone slab steps gracefully nestle the two-story home into the steeply sloping site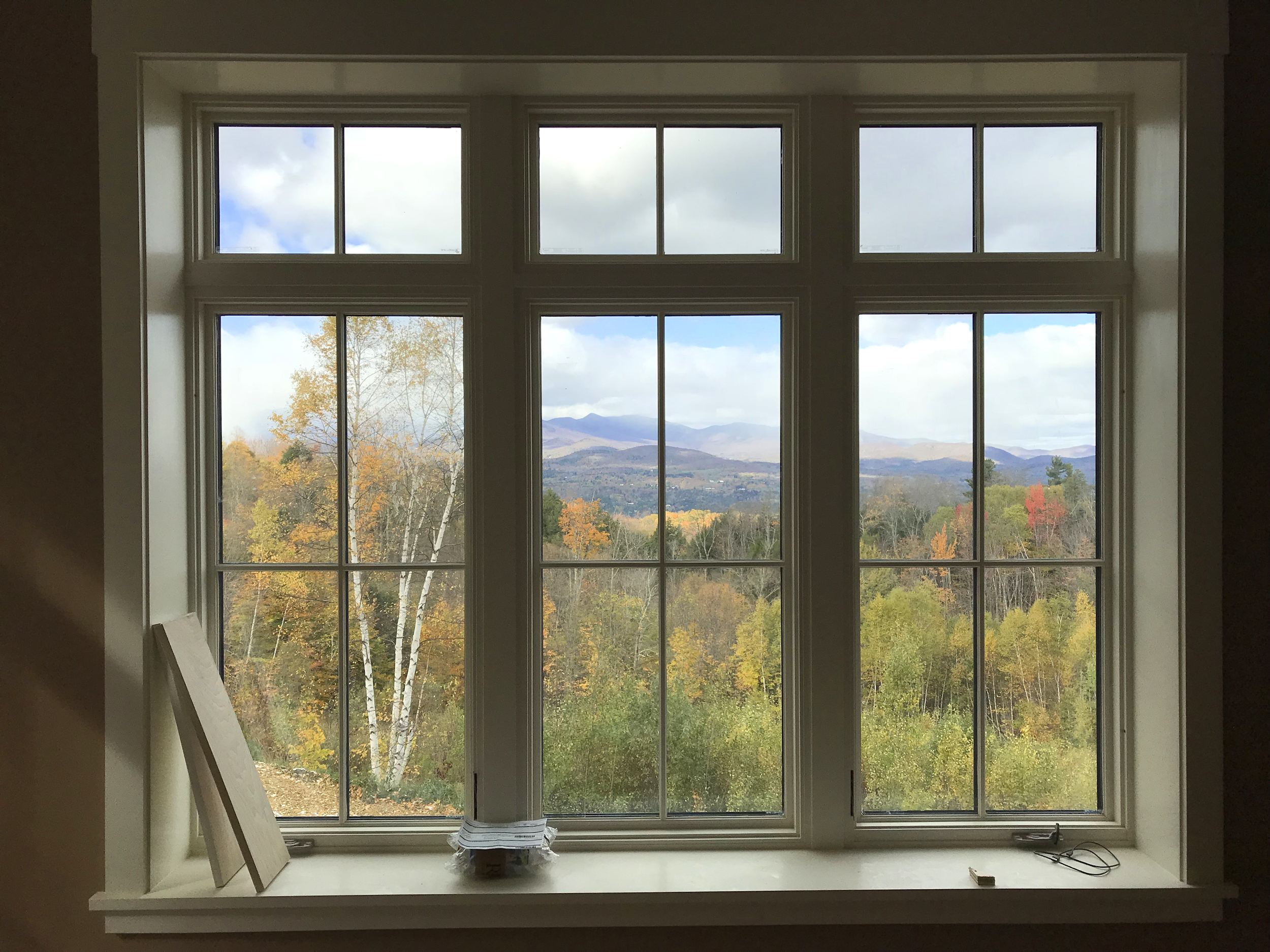 A vignette of the home's view as seen through its highly energy efficient triple pane windows.
The concept sketches below by Kelley Osgood, Project Manager depict a glazed addition to our client's traditional Greek Revival styled home. The design envisions a vertically ascendant volume with generous daylight to hold a remodeled kitchen and establish a fluid visual connection to the site's landscape. The gabled form is fully infilled with windows and sliding doors. It retains its stylistic connection to the existing house by surrounding the expansive glazing with Greek Revival styled corner board, frieze, and eave returns. Stay tuned for more as this exciting renovation project continues to unfold.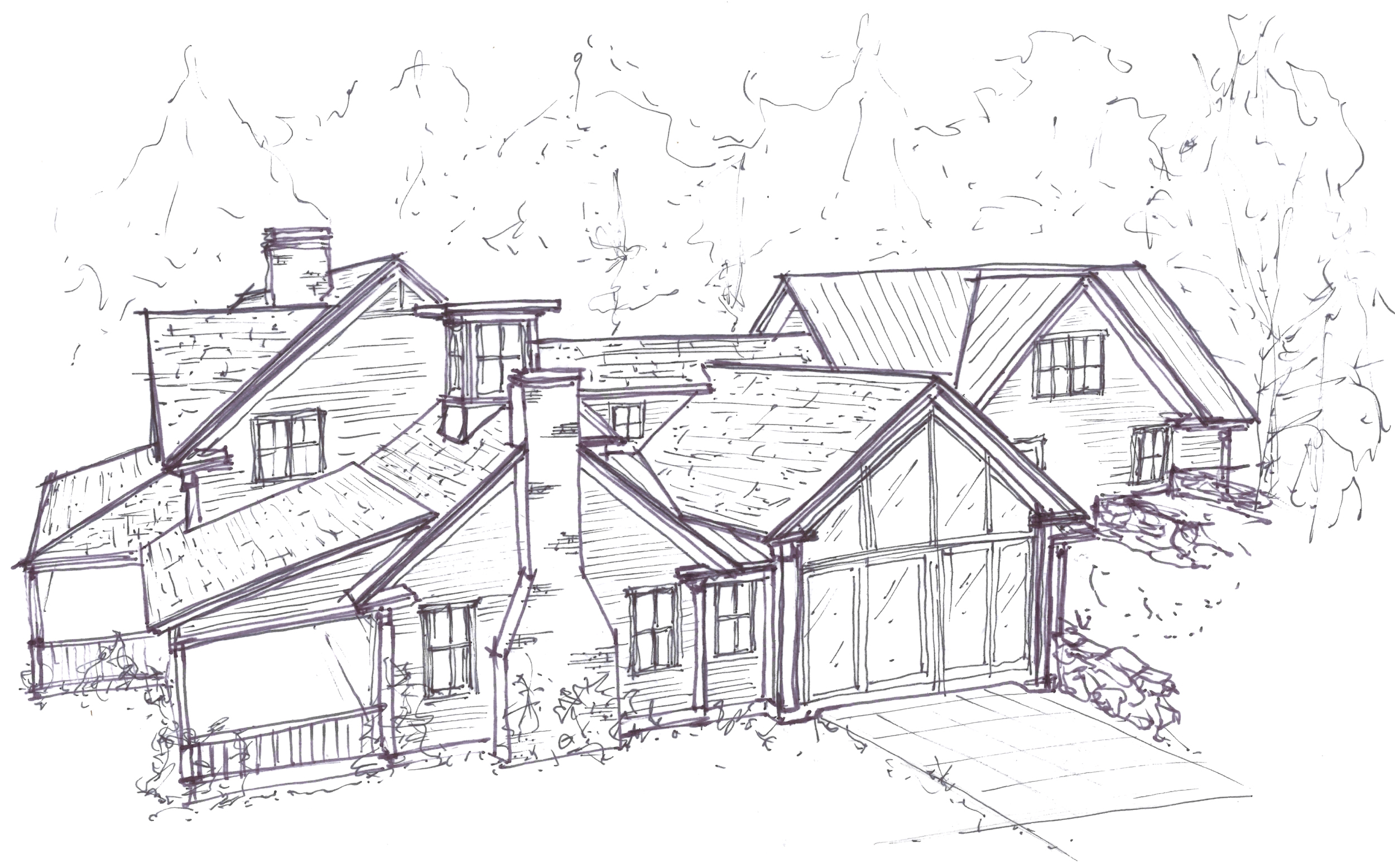 CDG has long collaborated with the Green River Reservoir State Park in Hyde Park, Vermont, and the Friends of the Green River Reservoir. During the past two years we have contributed design services for a new storage shed that will store firewood, hand tools & equipment, woodchips for the Clivus Multrim mouldering toilets and remote camp sites, and PFDs. The storage shed will also have a work bench and be used to store the park's boats during the winter season. Upon completion, staff and visitors alike will enjoy the convenient access and secure storage provided by the new structure. Below is a sketch of the newly revised design by Milford Cushman. The project has broken ground with completion anticipated for June 1, 2019. If you're visiting the park next season, you will likely see the newly constructed building in use!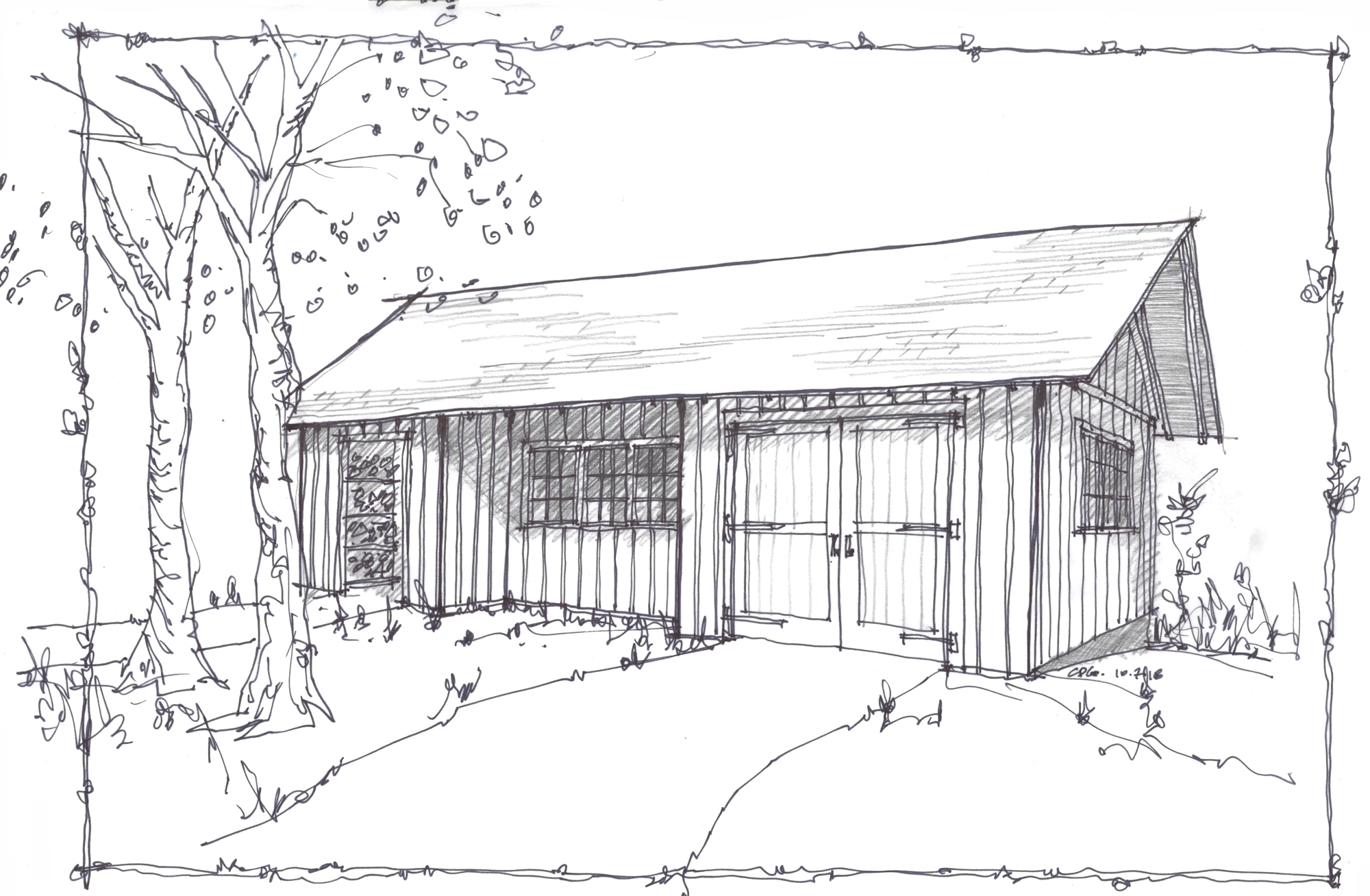 Related Posts