Spotlight on Craft: Details
June 01, 2018
CDG's team is proud to work with extraordinary craftsmen on many of our projects. The manifestation of our collaborative design work frequently includes handsome dry and wet-laid stone, intricate metalwork and custom light fixtures, exquisite timber framing, cabinetry, built-in mill work, and elegant tile work.
To celebrate the beautiful artisanal work available to our clients we're highlighting the work of those who have contributed to our studio's projects. In this post, we are delighted to share images and stories about several of the details created for a recent extraordinary project with clients who have demonstrated exceptional gratitude and appreciation for craftsmanship and the creation of beauty.
The design and general contractor project teams are pictured at right; L-R: John Steel, Steel Construction President, Terri Gregory, CDG Interior Design Specialist, Austin McClelland of Steel Construction, Kelley Osgood, CDG Project Manager, Nick Skwira former CDG Designer, Andrew Volansky former CDG Architect, Milford Cushman, CDG President, and John Hudgens, Steel Construction Project Manager
Photography by Jim Westphalen unless noted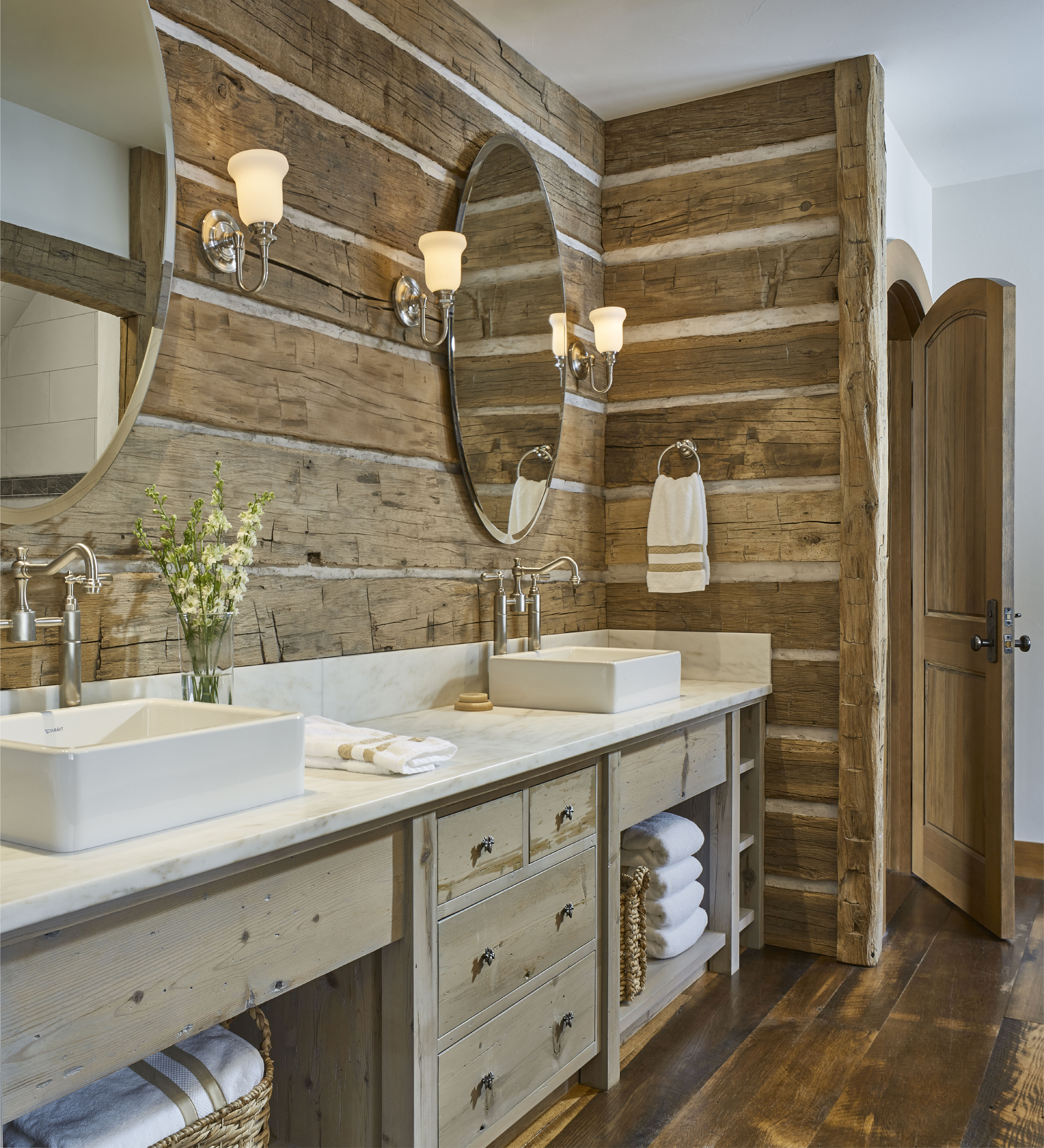 This bathroom vanity in the home's guest suite is made of reclaimed pine with a Vermont Danby marble counter. The surrounding wall is built using reclaimed timbers to resemble an Appalachian log home with an authentically rustic comfort. The "chinking" in between the timbers was done by mason Dave Osgood using a hand mix of masonry mortar. General contractor Steel Construction's team of finish carpenters did extraordinary work to precisely recess the back splash into the reclaimed timbers.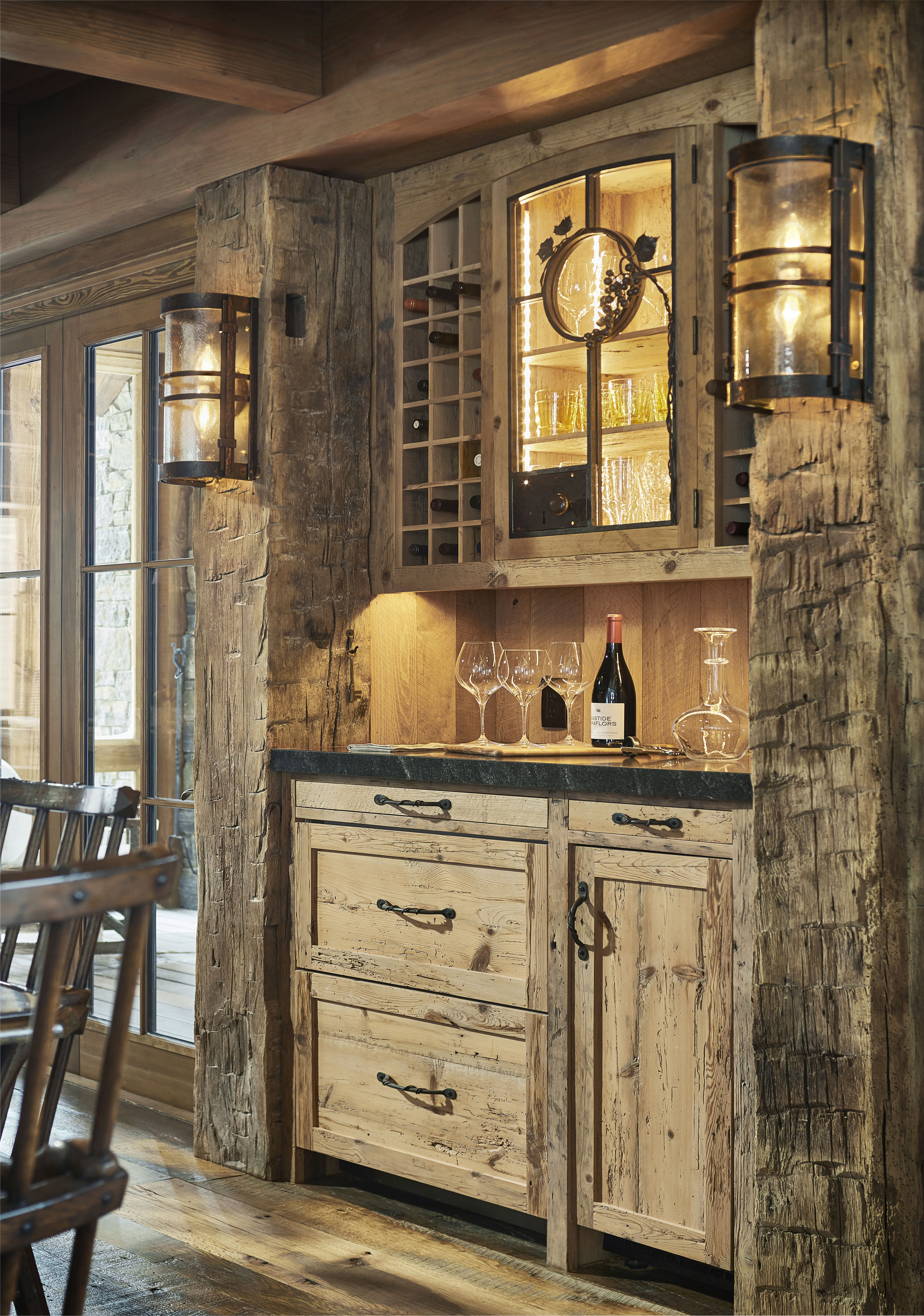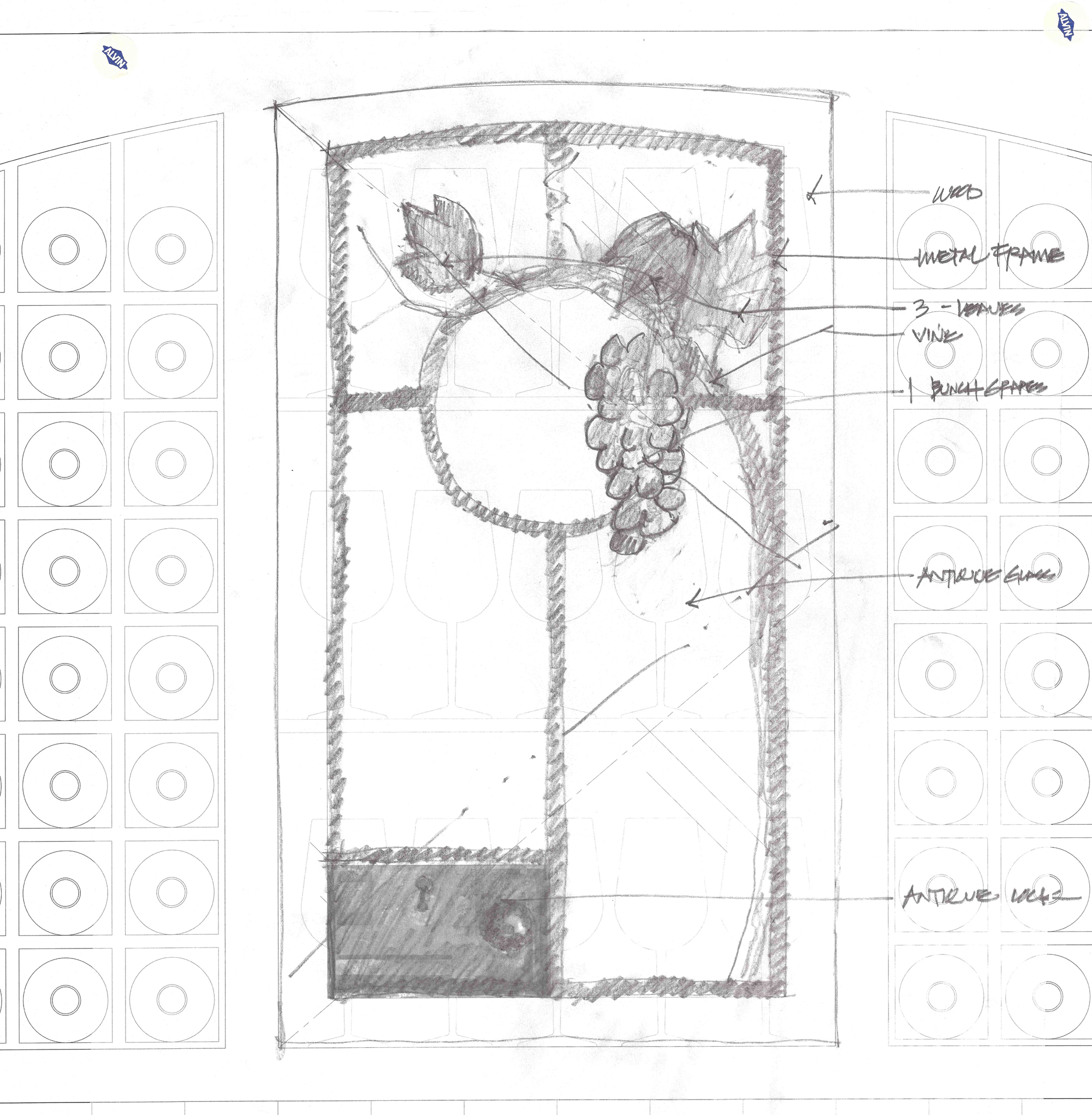 The ornamental upper cabinet door for this dry bar draws inspiration from a grape vine reaching and articulating its branches across a trellis. Brad Robertson and Kate Sprague of Iron Art in Stowe, Vermont did extraordinary work crafting the steel, based on our design drawings. Antiqued glass for the door was provided by Lawrence Ribbecke Studios in Burlington, Vermont.
Below is a custom light fixture fabricated by Iron Glass Lighting of Bozeman, Montana. The individual enclosed lamps are hung by chains to descend with the surrounding stairway and dramatically illuminate it from the second level to the ground level, three floors apart.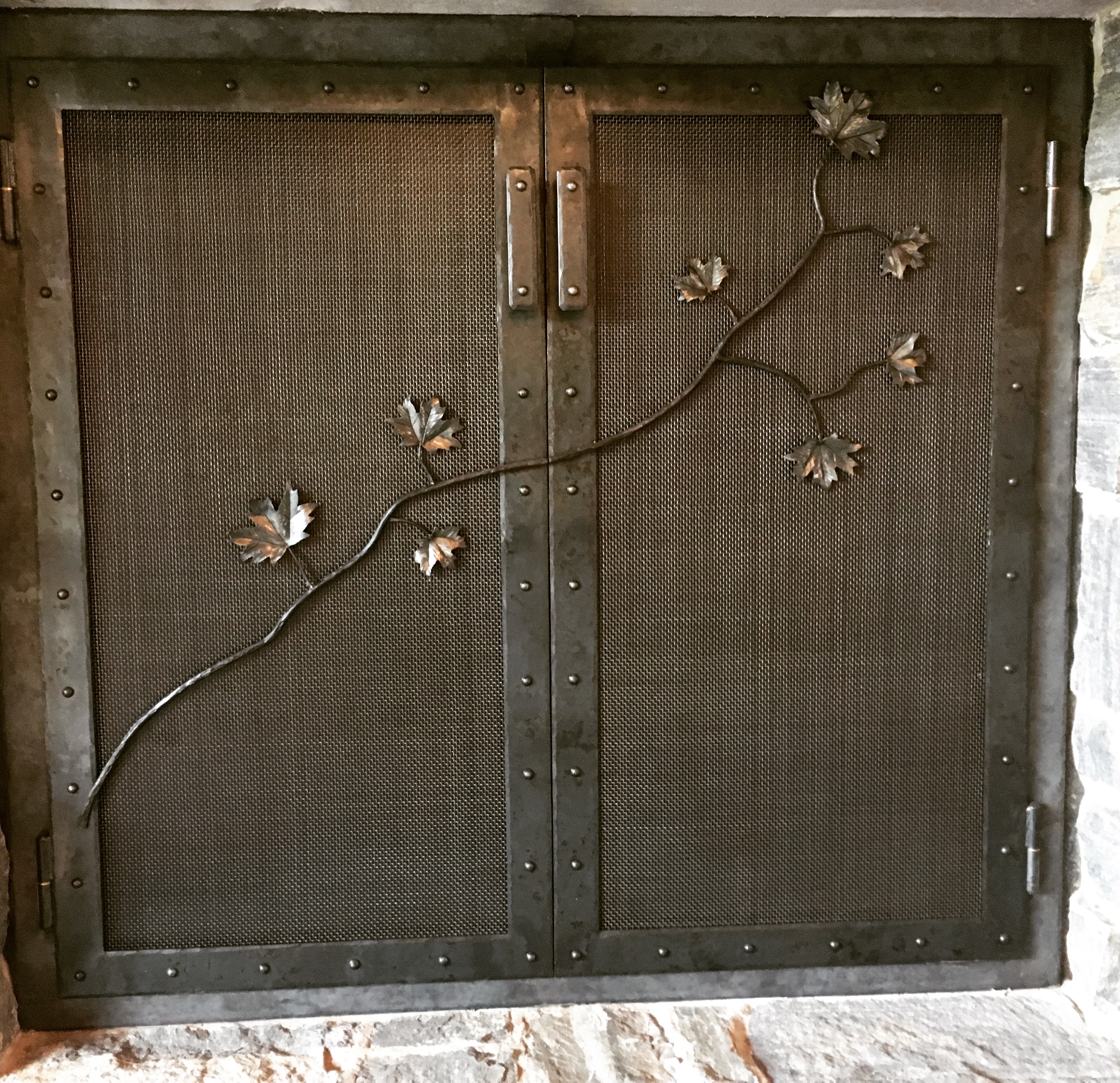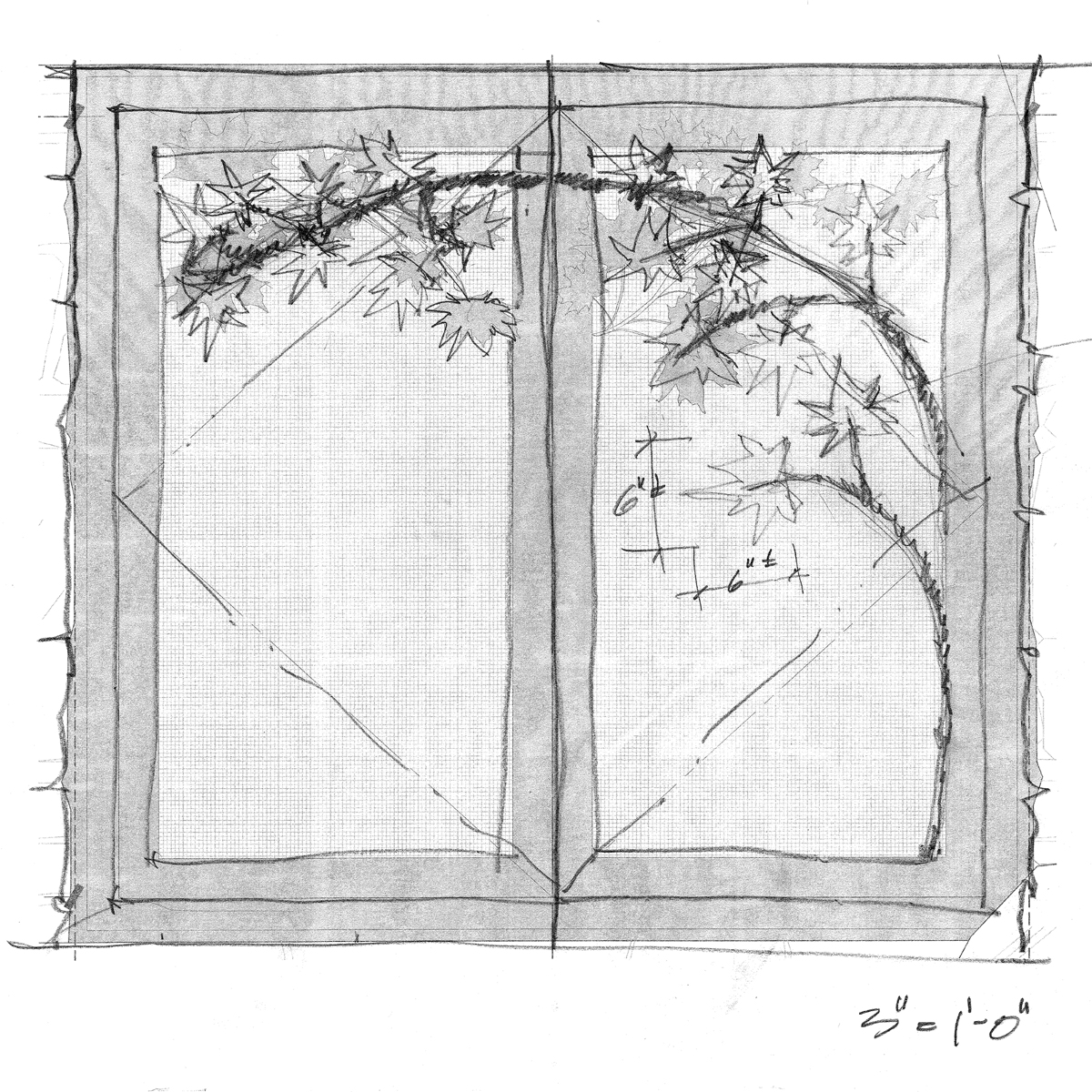 Above Photo: Kelley Osgood - The concept for these fireplace doors fabricated by Iron Art was to bridge them together using steel maple branches and leaves. Each leaf was meticulously crafted and placed on the branch. The fireplace itself is able to be fully sealed and is gasketted to meet the strict requirements of the Vermont Energy Code.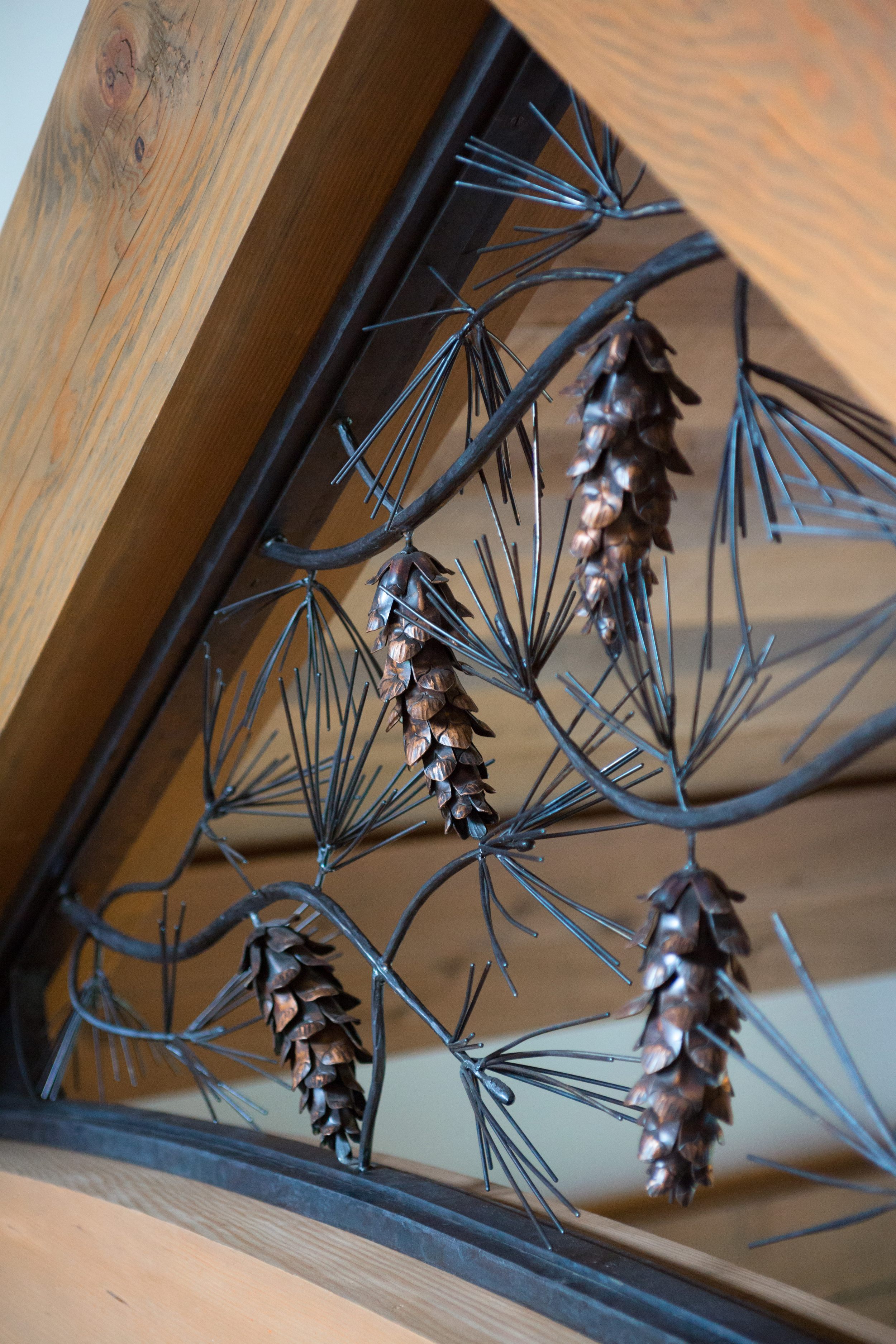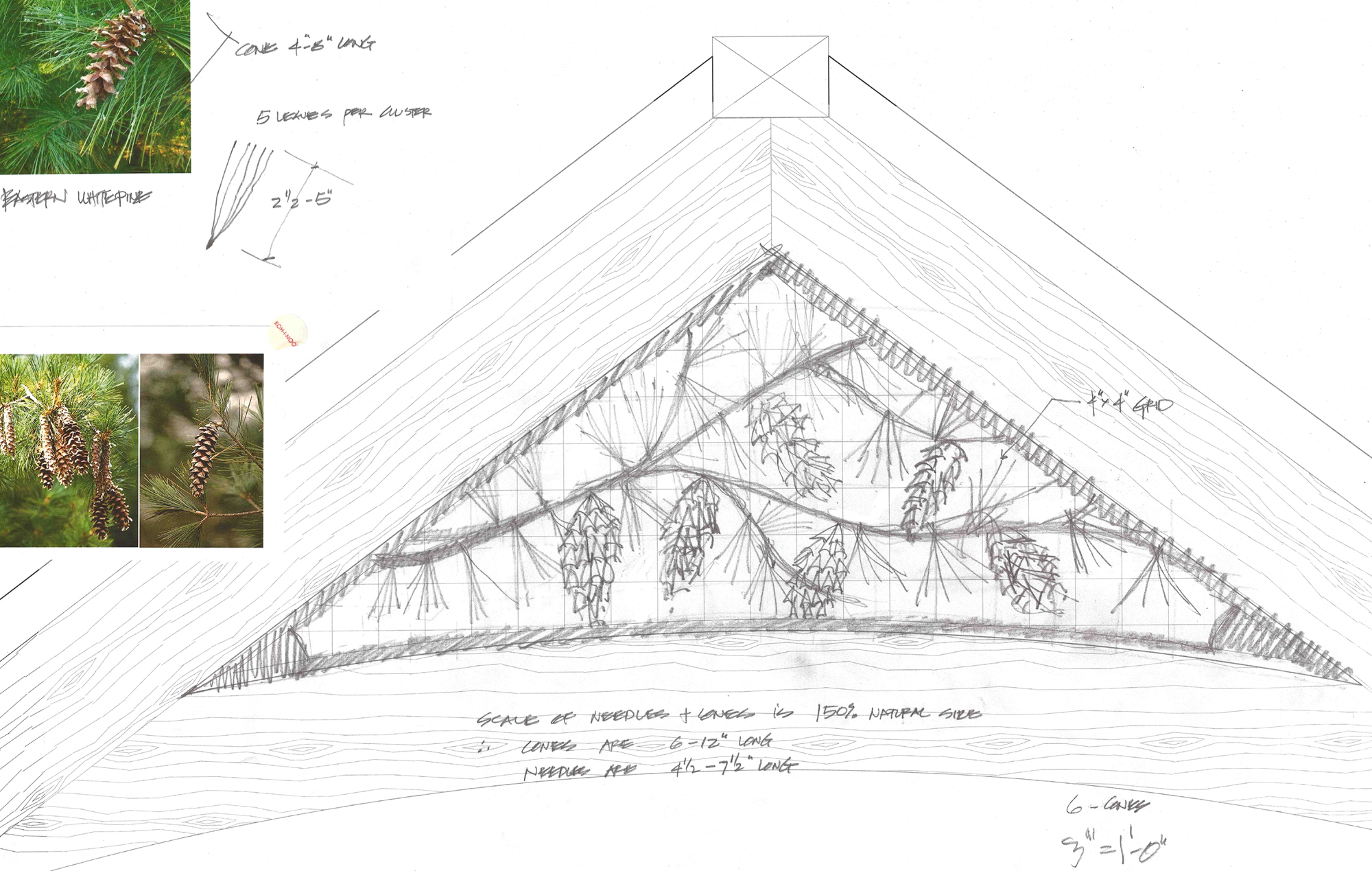 Upon entering this home a beautiful Douglas fir timber truss frames the end wall above and creates an opening to the second floor guest suite. To infill the truss, we designed steel pine branches and cones to elegantly create a "railing".
Below a white oak slab bench rests upon large glacier tumbled stones. Inlaid in the bench is the end of an Eastern White Pine branch, appearing to have fallen from the tree above. Iron Art crafted the metalwork on both the truss and bench, and Steel Construction built the bench.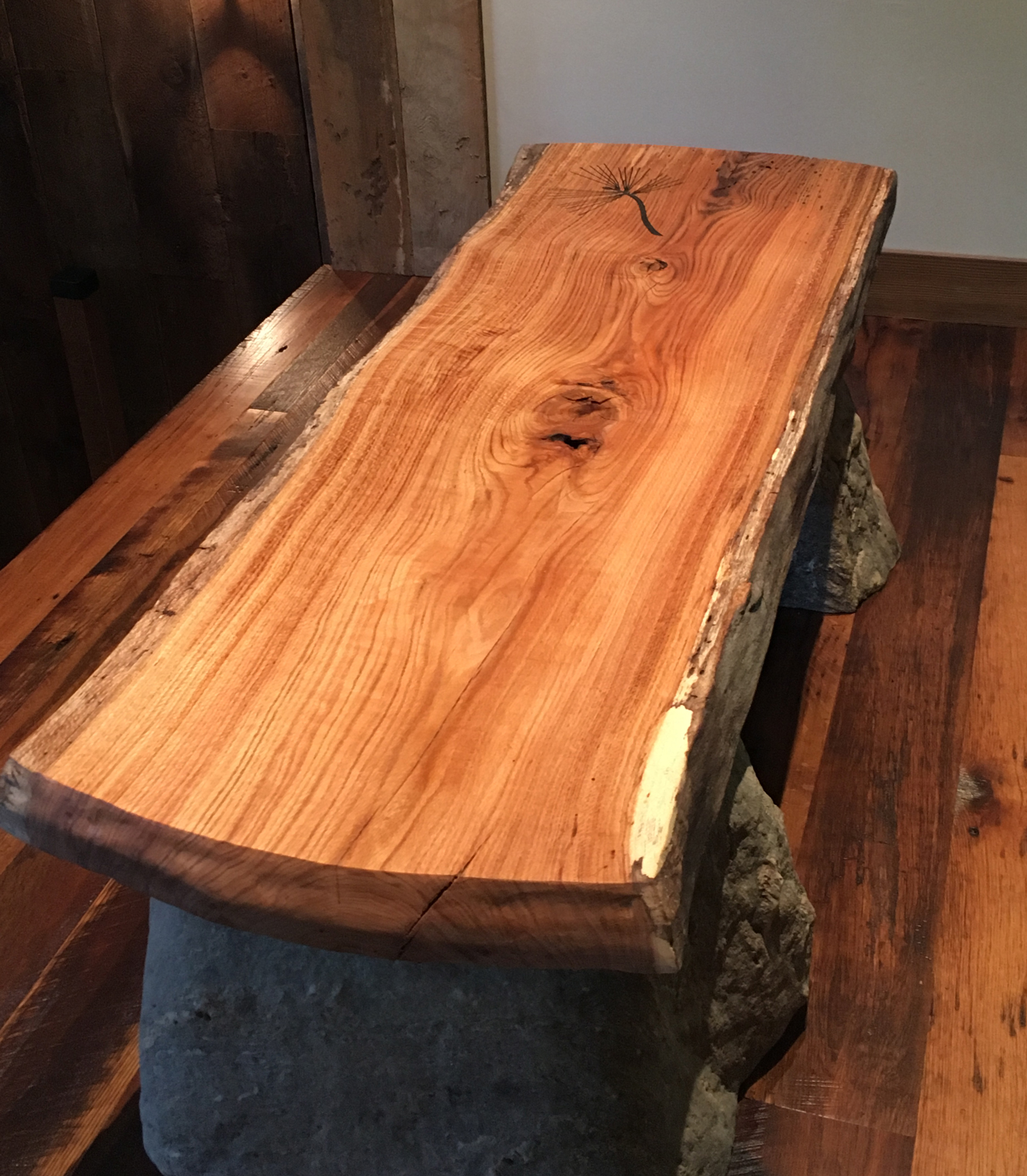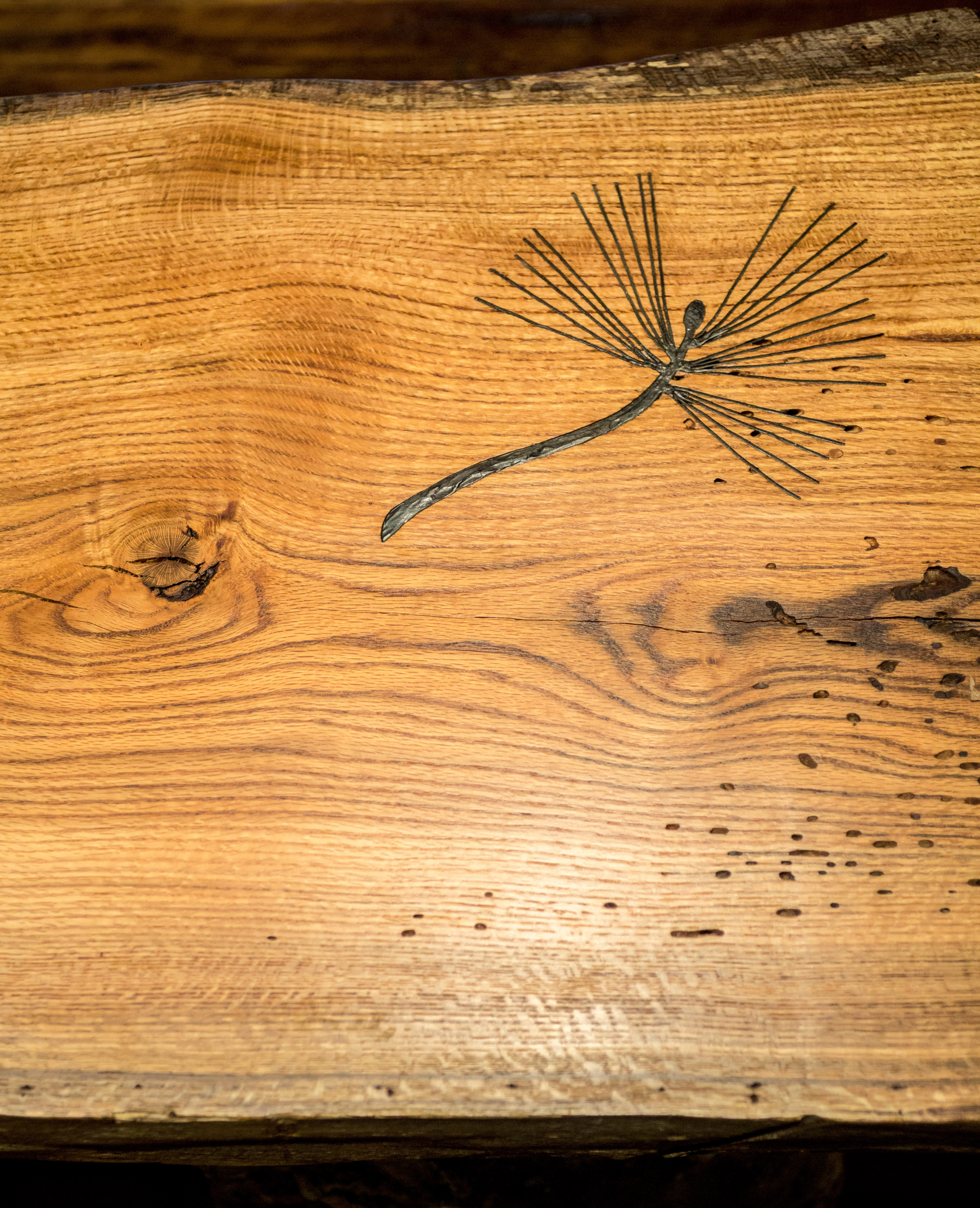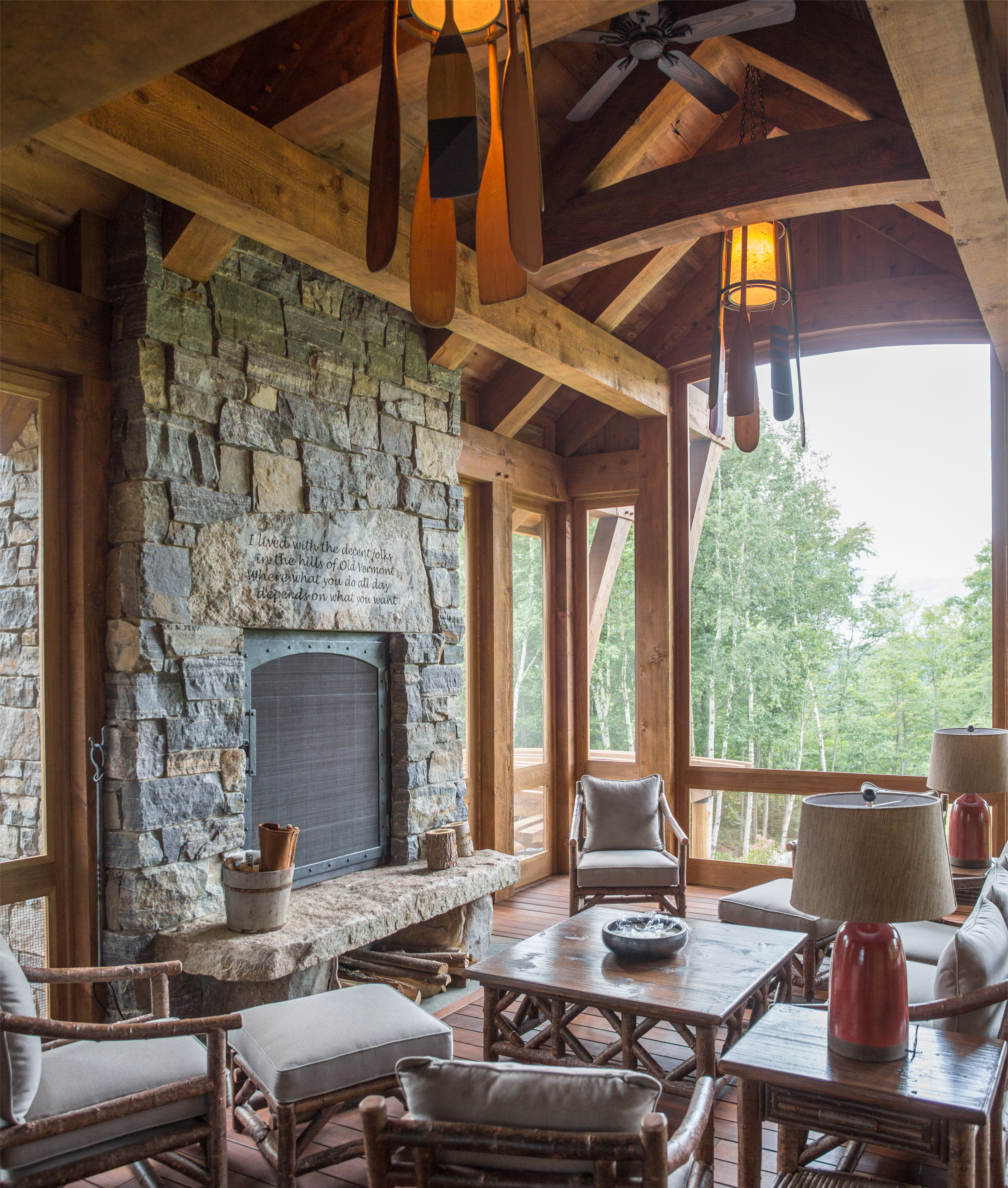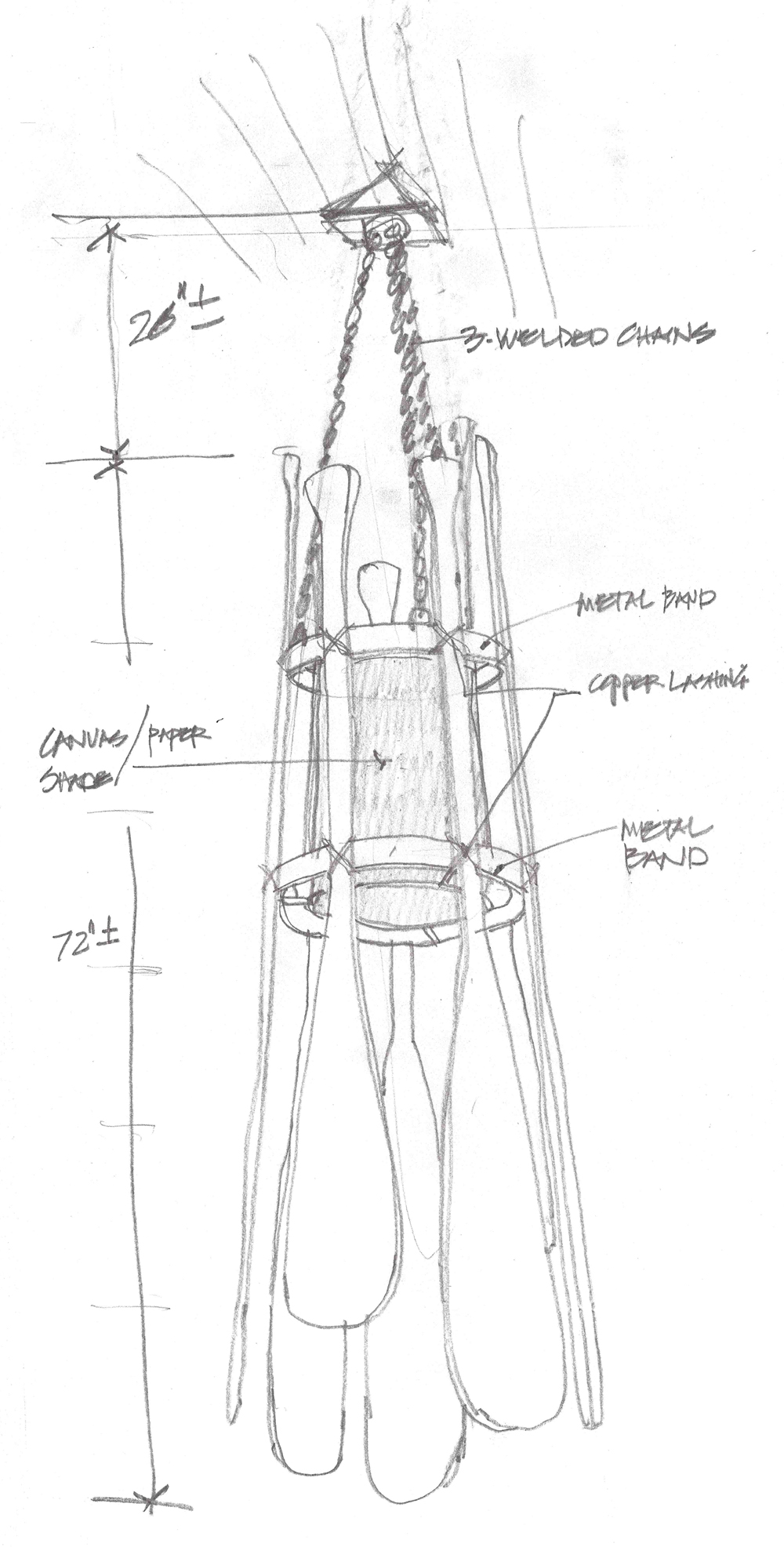 For the screened porch we proposed rustic camp themed custom lighting. Reclaimed canoe paddles were used to enclose a pendant lamp for two dramatic fixtures above the living space and fireplace. An antique a canoe from Raquette River Outfitters was hung from a birch log yoke and illuminated over the dining table. Our team and general contractor Steel Construction relied on extraordinary craftsmanship from Iron Art who fabricated the metal work, and Peak Electric whose electricians wired and installed the fixtures.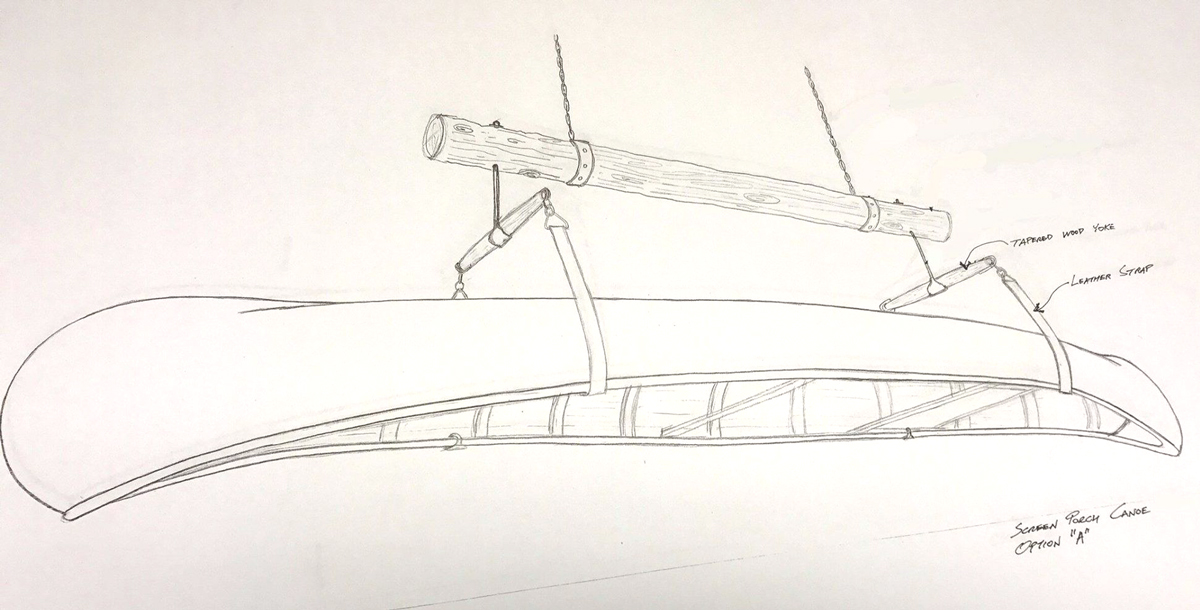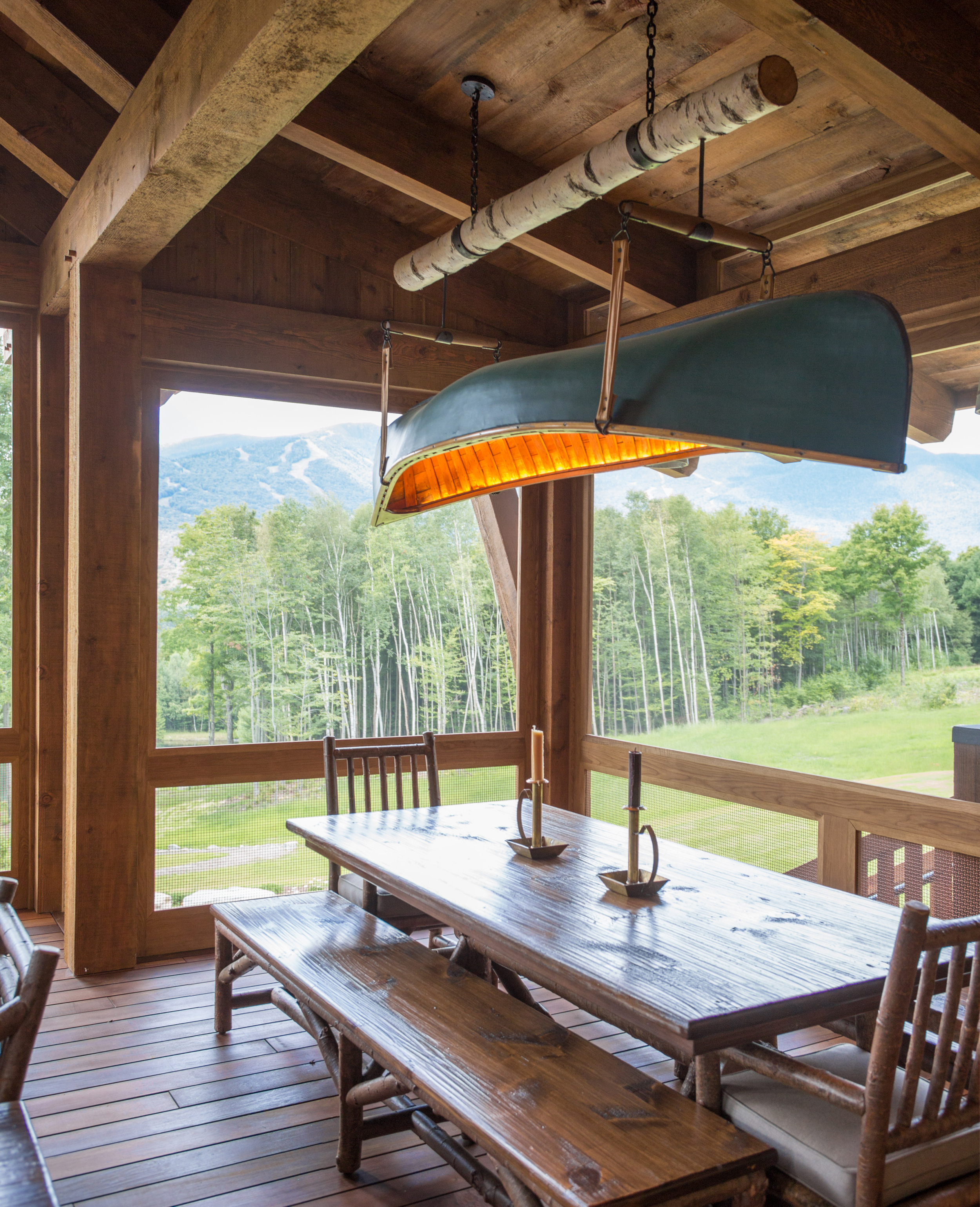 Related Posts